This past fall I had the privilege of joining a handful of bloggers for the Sassy Blogger Bash — an event hosted by Sassy Baby where we had the opportunity to have hands on experience with some of their most recent products, as well as chat with developers! It was a great experience, which I raved about here. Now, while I did share with you some of my favorite products in that post, there was one very cool product that I wasn't able to talk about because it hadn't been released yet. You get to hear about that today!!!
If you don't know much about Sassy Baby, let me begin by telling you that they are a West Michigan based company (yay local!) who is doing amazing things! First and foremost, Sassy Baby is doing a great job connecting with people in social media, which I appreciate! Secondly, the team at Sassy Baby has put a tremendous amount of time, effort, and research into creating a line of amazing baby and toddler products! Their website is a testament to all of that research as they share about the different ways babies communicate and the different things happening with baby as they reach different ages.
Sassy Baby offers everything from toys and bath-time products to feeding and care products. Some of my personal favorites are the No-Scratch Bottle Brush and the Stay-Clean™ Silly Squirts™.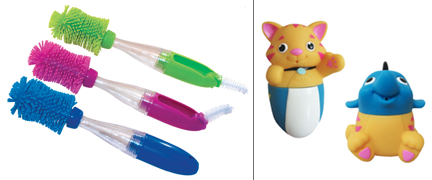 I know, I told you about those items before.  But they really do deserve being mentioned again!  Now, let's look at a product that I couldn't share with you before!  The Rock and Roll Developmental Gym!!!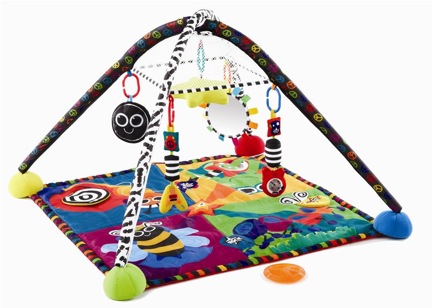 The Rock and Roll Developmental Gym is the latest addition to the Sassy Baby rock & roll themed products.  The activity mat offers an astounding 17 developmental activities, including toys that stimulate hearing, touch, vision, and taste. If you've ever tried to get a baby to spend time on their tummy ("tummy-time"), you know that it can be quite a challenge.  The Rock and Roll Developmental Gym offers baby an amazing assortment of activities to keep them entertained during that tummy-time!
One of my favorite features on the Rock and Roll Developmental Gym is how quickly and easily it sets up!  We had an activity mat for the girls when they were both babies and it was kind of a pain to get those arches to hook on and not fall over.  The arches on the Rock and Roll Developmental Gym actually attach to the mat via velcro, which makes set-up and take-down so easy and fast.  Yet the velcro system is strong enough that baby cannot just take it apart.  Love it!
Zoe absolutely loved playing with the Rock and Roll Developmental Gym at the Sassy Blogger Bash, which is why I currently have ours safely tucked away in the nursery until baby boy arrives next month! Her favorite part is the musical star!!!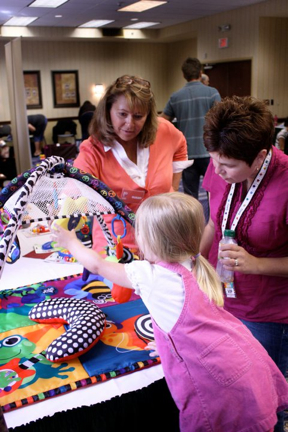 There are just so many great products at Sassy Baby, making it impossible to tell you about them all here.  But you can check them out on their website, as well as in stores like Babies R Us, Meijer and Target.  You can also connect with them on Twitter (@SassyBabyToys) and Facebook.
Win it…
One winner will receive their very own Rock and Roll Developmental Gym from Sassy Baby.
Enter…
To enter, simply visit SassyBaby.com and look around at what they offer.  Then, come back here and leave me a comment telling me which product you'd most like to try!
You can earn one extra entry by doing any or all of the following:
Subscribe to Stacey says…
Follow @Stacey_Says on Twitter
Tweet and/or Post on Facebook about this contest.  Be sure to leave me a link to your updates or tweets in a comment below.  (You can do this once daily, each)
"I want to win a Rock & Roll Develop. Gym from the "Ready for Baby" Baby Shower w/ @SassyBabyToys and @Stacey_Says: http://bit.ly/SassyBaby"
Follow @SassyBabyToys on Twitter
"Like" Sassy Baby on Facebook
Leave me a new comment each time you do one of the "extra entries"!
Giveaway Details…
One winner will be randomly selected from the comments posted by Wednesday, February 9.  All entries will be verified and must include an email address where I can contact you if you should win.  This giveaway is open to US shipping addresses. You can read more about Giveaway Policies here.
Don't forget to enter the other great giveaways in the "Ready for Baby" Virtual Baby Shower!!! A complete list of giveaway links can be found (and will constantly be added) on the right sidebar and on the Virtual Baby Shower main page!
*You should know…I did receive a complimentary Rock and Roll Developmental Gym from Sassy Baby in order to help bring you a personal and in-depth review.  All opinions stated here are my own and are not affected by compensation.
Photos courtesy of Sassy Baby.