Blankies.  Lovies.  Pacies.  Snugglies.  Whatever it is or whatever you call it, a baby just isn't a baby without some sort of comfort item.  (Ok, they are still babies without comfort items but…well, you know what I mean!) My girls each have little "lovies".  Abbi has had hers since birth, an elephant head attached to a little blanket named Guser, and Zoe's, a monkey head attached to a little blanket, didn't really come into her possession until earlier this summer (when I originally bought it for baby #3).
The reality is you never know what item your little one is going to grow attached to, although, as parents, we do have a little sway over that.  If a particular "lovie" finds it's way in baby's crib or carseat time and time again, there's a good chance baby's going to want to have it.  So, if you're going to sway your little one's choice (and it won't be the last time, I'm sure), you're going to want to pick something that's going to stick around for a while!
The Snuggle Buddy® by Rashti & Rashti is the perfect choice! Snuggle Buddys® are offered in a variety of  characters and colors, making them a perfect gift for the little girl or little boy in your life!  Not only are the little characters so adorable but the security blanket is so soft and snuggly!  And, baby is going to love the rattle feature as they play with their new Snuggle Buddy!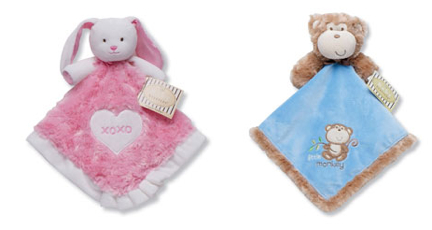 It's no wonder that Snuggle Buddy® was awarded the 2010 Top Choice Award from Creative Child Magazine. I've had to hide our Snuggle Buddy® so that baby boy actually gets to have this one and it doesn't end up in the bed of his 5 year old or 2.5 year old sister!
You can pick up your Snuggle Buddy® at various stores nationwide, including Babies "R" Us, Buy Buy Baby, Baby Depot, and JC Penny.  Rashti & Rashti are constantly coming up with new characters, fabrics, and "looks" to their Snuggle Buddy® line, including these adorable Snuggle Buddys® for 2011: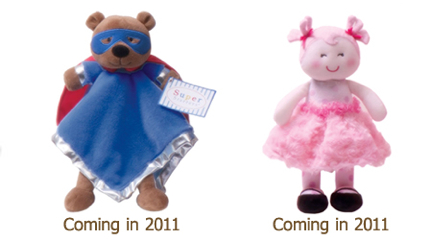 Aren't they so cute? Makes me want to have both a boy and girl so I can have both Snuggle Buddys!  Ok, maybe I'll just hope that some of my friends have more babies and I'll buy the new 2011 Snuggle Buddys for them!
Right now, if you visit SnuggleBuddyonline.com and vote for your favorite Snuggle Buddy, you can enter to win a Snuggle Buddy of your own!  Winners are being drawn monthly from now until April 30, 2011!
Don't forget to enter the other great giveaways in the "Ready for Baby" Virtual Baby Shower!!! A complete list of giveaway links can be found (and will constantly be added) on the right sidebar and on the Virtual Baby Shower main page!
*You should know…I received complimentary product from Snuggle Buddy to help provide you with an accurate and personal review of their products. All opinions stated here are my own and are not affected by compensation or complimentary products.
Photos courtesy of Snuggle Buddy.