The next time I'm pregnant, I'm totally going to ______________.  I wish I had ________________ when my baby was a newborn or growing up!
Go ahead, fill in the blanks.  There are always things, looking back, that we wish we had done while pregnant or while our baby was still so new.  For me, even after being pregnant three times, I wish I had taken pictures each month while pregnant to see how my belly grew.  Of course I don't think about that while I'm actually pregnant.  It's always an afterthought.  And here I sit, 36 weeks pregnant and a total of 4 pictures of myself from this pregnancy.  
When it comes to babies, I kind of want to do the same thing — document their growth.  I did a good job of this with Abbi, our first born, and took pictures of here each and every month.  Nothing special.  I just made it a point to snap a picture each month.  Then, with Zoe…oh poor second-born Zoe!  I didn't do such a good job.  I have quite a few months that went un-photographed.  This time though, I'm armed with these amazingly helpful and darling milestone stickers from Sticky Bellies!!!
Sticky Bellies monthly milestone stickers are stickers that help you document each month, for the first 12 months, of your baby's life! Simply place that month's sticker on whatever onesie, t-shirt, or outfit your baby is wearing (or a blanket covering your little one), take a few (or a ton) of photos, and then remove the sticker!  No need to buy a new shirt each month and you can save that little monthly sticker for decoration in the baby book!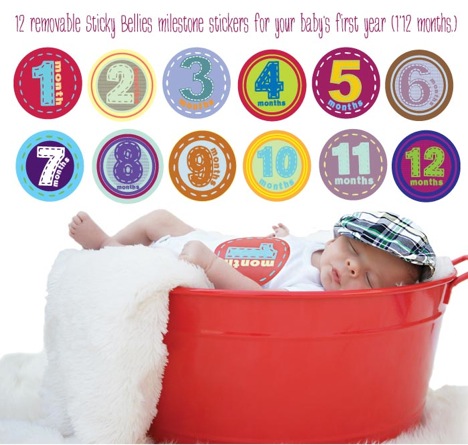 I love the idea of Sticky Bellies because, not only are they cute and affordable (just $14.99), but they work for any gender! And the thought of not having to iron or sew something on to a t-shirt each month, well that just makes my heart pitter-patter!  With Sticky Bellies being so easy to use and remove, I definitely foresee me actually following through with this each month!  My thought is that I'm actually going to not do the t-shirt idea but, instead, put the sticker each month on a baby blanket.  Then I can use the same blanket each month and I'll drape it over my naked little baby.  What do you think?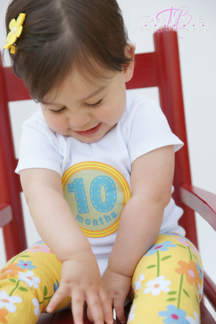 Sticky Bellies also offers a variety of other cute baby products, including Huggalugs Leghuggers, beautiful picture frames, and brag books!  Go check out their shop, check them out in Parents Magazine, and then stock-up for all those baby showers coming up!!!
Win it…
One winner will receive Oh "Sew Cute" 12 removable milestone stickers from Sticky Bellies!
Enter…
To enter, simply visit StickyBellies.com and take a look around at all of their products.  Then, come back here and leave me a comment telling me something that caught your eye!
You can earn one extra entry by doing any or all of the following:
Subscribe to Stacey says… or "join this site" with Google Friend Connect (on the sidebar)
Follow @Stacey_Says on Twitter
"Like" StaceySays.com on Facebook
Tweet and/or Post on Facebook about this contest.  Be sure to leave me a link to your updates or tweets in a comment below.  (You can do this once daily, each)
"I want to win a Sticky Bellies milestone stickers from @Stacey_Says' "Ready for Baby" Virtual Baby Shower: http://bit.ly/StickyBellies"
"Like" Sticky Bellies on Facebook
Leave me a new comment each time you do one of the "extra entries"!
Giveaway Details…
The winner will be randomly selected from the comments posted by Wednesday, February 9.  All entries will be verified and must include an email address where I can contact you if you should win.  This giveaway is open to US shipping addresses. You can read more about Giveaway Policies here.
Don't forget to enter the other great giveaways in the "Ready for Baby" Virtual Baby Shower!!! A complete list of giveaway links can be found (and will constantly be added) on the right sidebar and on the Virtual Baby Shower main page!
*You should know…I received a complimentary product from Sticky Bellies to help provide you with an accurate and personal review of their products. All opinions stated here are my own and are not affected by compensation or complimentary products.
Photos courtesy of Sticky Bellies and TammyBPhotography.com.