The UPS Store?  At a baby shower? I know, you think I've lost my mind here but let me explain…
Most of my friends who are having babies sadly live out of town.  While I would love to travel to visit each one of them for their baby showers and to love on that new squishy baby after he/she is born, it just doesn't work out that way.  So, I end up sending a lot of baby gifts!  And my absolute favorite place for shipping is The UPS Store!!!

Shipping at The UPS Store is so easy and convenient…two must haves when you're 36 weeks pregnant and toting your 2.5 year old with you! Recently I had two baby gifts that I really needed to get shipped because these darling babies were already months old.  I blame the pregnancy and holidays for taking so long to get the gifts out but I think the parents will forgive me when they see how cute these little outfits are!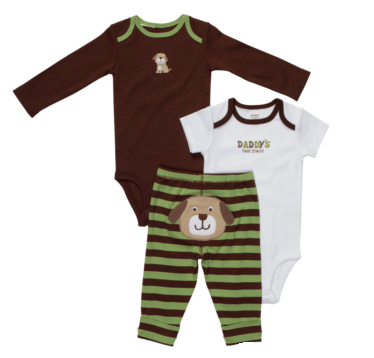 Anyhow, with unpackaged gifts and Zoe in hand, we made our way to The UPS Store and got to see our favorite UPS Store employee!  Honestly, this woman is so unbelievably nice and helpful…a welcomed change from some of the workers at those other shipping stores and offices.  After figuring out our best shipping options and packaging, she took care of all the rest and Zoe and I were on our way to running our other errands!  You can see my whole shipping experience at The UPS Store on my Whrrl story!
I love that The UPS Store is truly a one-stop shop!  Not only do they take care of all your packaging and shipping needs, but they also offer services like faxing, packing & moving boxes, mail boxes (great if you're inbetween moves or wanting a mailbox for your business…they can even accept packages for you), and copy and print services. I also used their copy services at the end of last month when I was putting together my invites for my Baby Shower Benefit.  (Once again, thank you to The UPS Store for being a fabulous sponsor at my Baby Shower Benefit!!!)  I really wanted color copies but didn't want to be printing all those copies on my home printer.  The color copies I made at The UPS Store turned out so great!
So, the next time you need to send a baby gift (maybe in, say, 4 weeks….hint, hint) you should definitely check out The UPS Store! And, of course, check out all of the other services they offer.
Also, when you check in at The UPS Store on Whrrl from now until April 20, 2011, you have a chance to win a $10 American Express Gift Card courtesy of The UPS Store!
Win it…
I have FIVE prizes I'm giving away —
Four people will each win a $25 gift card to The UPS Store
One GRAND PRIZE winner will receive a gift bag (pictured below) with an assortment of baby products AND a will receive a $25 gift card to The UPS Store! Which, of course, I'll be sending to the winner via The UPS Store!
Enter…
To enter, simply visit The UPS Store online and take a look around at the different services they offer.  Then, come back here and leave me a comment telling me one of the services you'd most use!
You can earn one extra entry by doing any or all of the following:
Subscribe to Stacey says… or "join this site" with Google Friend Connect (on the sidebar)
Follow @Stacey_Says on Twitter
"Like" StaceySays.com on Facebook
Tweet and/or Post on Facebook about this contest.  Be sure to leave me a link to your updates or tweets in a comment below.  (You can do this once daily, each)
"I want to win a $25 gift card to The UPS Store from @Stacey_Says Virtual Baby Shower: http://bit.ly/TheUPSstore #lovinlogistics"
"Like" The UPS Store on Facebook
Follow @TheUPSStore_PR on Twitter
Leave me a new comment each time you do one of the "extra entries"!
Giveaway Details…
The winners will be randomly selected from the comments posted by Wednesday, February 9.  All entries will be verified and must include an email address where I can contact you if you should win.  This giveaway is open to US shipping addresses. You can read more about Giveaway Policies here.
Don't forget to enter the other great giveaways in the "Ready for Baby" Virtual Baby Shower!!! A complete list of giveaway links can be found (and will constantly be added) on the right sidebar and on the Virtual Baby Shower main page!
*You should know…I writing this post as a brand ambassador for The UPS Store and as part of a campaign through Collective Bias.  All opinions stated here are my own and are not affected by compensation or complimentary products.