For those of you who have been following along with this "Ready for Baby" Virtual Baby Shower, have I officially freaked you out as new parents yet? I'm so sorry if I have!  Totally not my intention! The tough part with telling you about new and different baby products is that there is a reason why new products hit the market — because something was discovered about the old product or the old way of doing things that probably wasn't the safest thing for baby.
This is true in pretty much every realm of baby gear and care. Today I'm going to share with you some info about crib gear and a fabulous product called Wonder Bumpers from Go Mama Go Designs!
One of the first things we do as expectant parents, especially with our first born, is design the nursery!  Cribs, changing tables, curtains, decorations, crib bumpers, and bedding.  After forking over a mortgage payment or two, the room is decorated and ready for baby!  But, did you know that one of those items (a very common item) can actually be dangerous for your baby?
The safety and necessity of those decorative crib bumpers has recently become a topic of debate in the parenting world. Crib bumpers were originally created to keep baby safe while rolling around in the crib so that they would not get their heads stuck between the crib slats.  But then crib manufacturers were pushed to create cribs with slats that were closer together, eliminating the ability for baby's head to get stuck.  A safer crib meaning a safer baby.
So, why do we still have bumpers on our cribs if we no longer need them? Two basic reasons — (1) Parents like the way they look on the crib.  They "complete" the look of a crib, giving it that traditional baby feel.  And they often come sold as a package deal with your favorite crib bedding.  (2) Parents are still fearful that baby will roll around bump their head on the hard crib surface or stick their arms or legs through those slats.
While both of those are valid reasons, there are some even better reasons WHY NOT TO USE CRIB BUMPERS.  First, crib bumpers can pose a suffocation hazard for babies, much like blankets and pillows in a crib, if baby were to roll over and have their face up against the bumper for an extended period of time.  Secondly, crib bumpers can pose a risk of strangulation.  Most crib bumpers are tied on to the crib slats.  Babies can get caught in the bumper itself or the ties.  And third, crib bumpers reduce the amount of fresh air circulating to your baby while in the crib so baby is breathing stale air which may be a contributing factor to SIDS.
So, what's a parent to do?  You don't want baby to hit that hard crib as she rolls around but you don't want to put her at risk.  This is where Wonder Bumpers from Go Mama Go Designs come into play!  They have taken all these concerns about crib bumpers and created a fabulous product!
The Wonder Bumpers are individual bumpers that wrap tightly around each slat on your crib, padding the hard crib surface while still maintaining a breathable sleeping area for your baby. The bumpers are zipped on, eliminating the ties.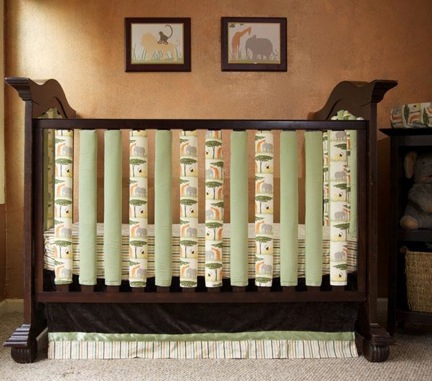 I love the idea of the individual bumpers for a few reasons.  First, having individual bumpers makes cleaning them so much easier. If baby projectile spits while in the crib, you only have to remove and wash those few bumpers that she hit!  Secondly, the Wonder Bumpers are reversible! Each pattern or design is reversible allowing you to mix and match the look of your crib!  So cute!!!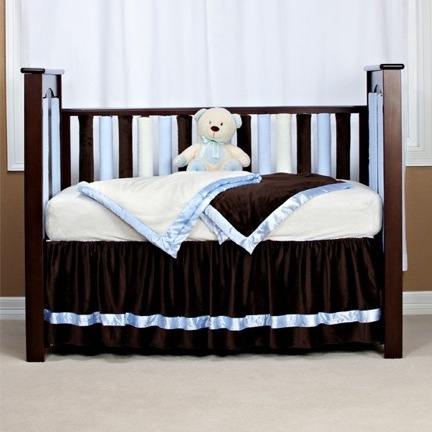 The biggest reason why I love the Wonder Bumpers are from a safety stand point. Our particular baby crib has a solid back which makes using a traditional crib bumper very tricky.  There is no way to tie that traditional bumper to the back of the crib.  I've tried pretty much everything in the past.  I've tucked it in; tied it as tight as possible on the corners; used double sided stickies to keep it from falling down.  Nothing seemed to work.  At least not well enough for me to feel completely at ease!  With the Wonder Bumpers I can simply attach them to the slats on the sides and front!
Wonder Bumpers come in a variety of designs and packages, depending on the number of rails on your crib.  You can also buy different packages of them to mix and match!  Prices vary on the different designs and packages.  Go Mama Go Designs also features other great baby products like nursery/bedding accessories and these fabulous swaddling blankets — the Snug & Tug.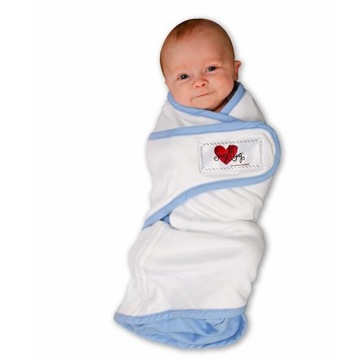 Win it…
One lucky winner will receive a $100 gift card to Go Mama Go Designs!!!
Enter…
To enter, simply visit GoMamaGoDesigns.com and take a look around their site.  Then, come back here and leave me a comment telling me your favorite Wonder Bumpers set!
You can earn one extra entry by doing any or all of the following:
Subscribe to Stacey says… or "join this site" with Google Friend Connect (on the sidebar)
Follow @Stacey_Says on Twitter
"Like" StaceySays.com on Facebook
Tweet and/or Post on Facebook about this contest.  Be sure to leave me a link to your updates or tweets in a comment below.  (You can do this once daily, each)
"I want to win a $100 gc from @GoMamaGoDesigns & @Stacey_Says "Ready for Baby" Virtual Baby Shower: http://bit.ly/GoMamaGo"
"Like" Go Mama Go Designs on Facebook
Follow @GoMamaGoDesigns on Twitter
Leave me a new comment each time you do one of the "extra entries"!
Giveaway Details…
The winner will be randomly selected from the comments posted by Wednesday, February 9.  All entries will be verified and must include an email address where I can contact you if you should win.  This giveaway is open to US shipping addresses. You can read more about Giveaway Policies here.
Don't forget to enter the other great giveaways in the "Ready for Baby" Virtual Baby Shower!!! A complete list of giveaway links can be found (and will constantly be added) on the right sidebar and on the Virtual Baby Shower main page!
*You should know…I received a complimentary product from Go Mama Go Designs to help provide you with an accurate and personal review of their products. All opinions stated here are my own and are not affected by compensation or complimentary products.
Photos courtesy of Go Mama Go Designs.