With the last few weeks being overrun by snow days and sickness in our house, we've been doing a lot of "indoor" activities.  And by "activities", I mean tv and movies.  Seriously people…I'm 38 or 39 weeks pregnant.  "Activity" is very limited these days!
One of our newest dvd finds, and a new favorite of a classic tale, is Hoodwinked!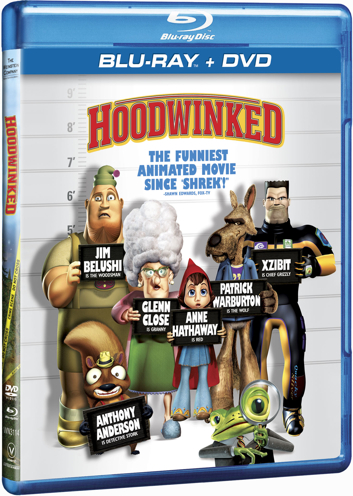 Hoodwinked is a new and entertaining spin on the classic tale of "Little Red Riding Hood".  This new story incorporates the classic story characters — Red Riding Hood, The Woodsman, Granny, and The Wolf — but this time each character becomes an unusual suspect as police and investigators try to uncover the true story behind the Little Red Riding Hood "incident".
The story that Hoodwinked portrays is wildly funny and entertaining.  From a snowboarding Granny to an undercover reporter Wolf, those characters you've known from childhood just aren't quite as they seem.  Of course, each character is brought to life by some of the leading voices in Hollywood, including Oscar® nominee Anne Hathaway as "Red", five-time Oscar® nominee Glenn Close as "Granny", Jim Belushi as "The Woodsman", Patrick Warburton as "The Wolf", Anthony Anderson as "Detective Bill Stork", and Xzibit as "Chief Grizzly".
Hoodwinked originally hit the big screen in 2005 but, of course, my girls have been too young to watch it until now.  I'm so glad that it is making a re-release to Blu-Ray and Blu-Ray/DVD combo on February 15, bringing it back to my attention.  This new release offers some fun special features, including deleted and extended scenes and behind-the-scenes story.
You can pick up the Hoodwinked Blu-Ray/DVD Combo Pack on February 15 for $24.99 (msrp).
*You should know…I received a copy of Hoodwinked for review purposes so I could bring you a personal opinion of this dvd from Vivendi Entertainment.  Receiving complimentary product or compensation does not have any bearing on my opinions stated here.