Wow! I can't believe the "Ready for Baby" Virtual Baby Shower has come to a close and, at the same time, I'm excited because that means I get to announce some winners!!!
I was slightly hoping that this post would be delayed because I would be in labor or just had the baby….but not the case.  I'm still very much pregnant!  Obviously this baby is too comfortable in his current environment, despite the fact that I am very much not!  Ok, let's not dwell on my uncomfortable-ness and the fact that I'm still sick…Let's talk winners!!!
Thanks again to all of the fabulous businesses/companies who participated in the "Ready for Baby" Virtual Baby Shower!  I had such a fun time sharing all of these amazing products here and I hope you, the readers, enjoyed learning about them.  Please keep them in mind as you're preparing for your own pregnancy/baby or shopping for gifts for others!  Many of them offer amazing giveaways and deals through Facebook & Twitter, so keep following them!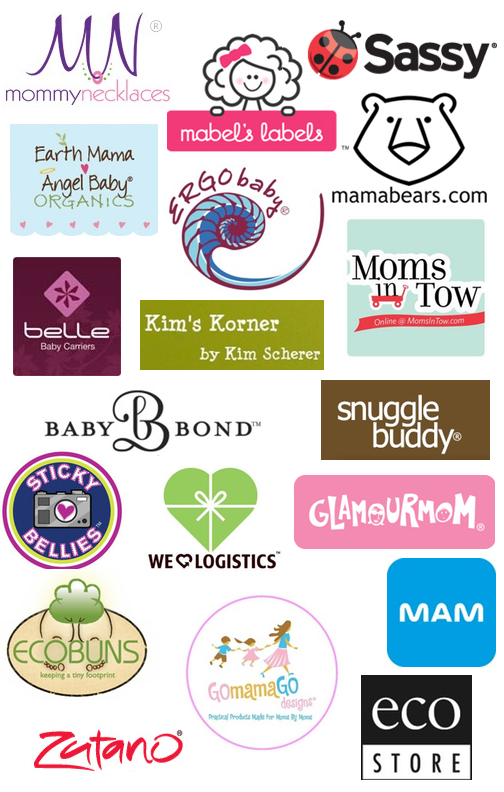 WINNERS!!!
Mommy Necklace from MommyNecklaces.com — Karen D.
Rock & Roll Developmental Gym from Sassy Baby — Michelle H.
Colourful Label Out Loud™ Essentials Combo from Mabel's Labels — Rod
Natural Nipple Butter from Earth Mama Angel Baby — Christy S.
Kind Signs from Mama Bear's — Colleen, Kendra M., Nicole B.
Sleep Sack from Kim's Korner — Shawna
Year Membership to Moms In Tow — Kendra
Baby Carrier from ERGObaby — Karen B
Nursing Cover from BabyBond — Dani M.
Milestone Stickers from Sticky Bellies — Melissa E.
$25 gift cards from The UPS Store — Deanna (also won the gift bag), Addy Sue, Kelly D., Colleen, Abby
Nursing top from Glamourmom — Jessica A.
$15 Gift Card to EcoBuns — Sheri Connie
Anti-Colic Baby Bottle packs from MAM — susanlanai, Veronica L, Nicole S., Jenny L., Eve
Baby Care Gift Pack from ecoSTORE — Christine D.
$100 Gift Card to Go Mama Go Designs — Jessica
$100 Gift Card to Zutano — Kait P.
$25 Gift Card to Amazon.com — Jessica L.
All winners have been notified via email (so check your email and read it very carefully).  If you think you won but didn't receive an email from me, please let me know (staceysays@me.com).
While I'll probably hold off on posting more giveaways for a few weeks (this baby has to come sooner or later), I'm excited about some of the upcoming giveaways I will be offering here!  So, check back often!  You can always subscribe to StaceySays.com (via RSS or email), follow me on Google Friend Connect (see the right sidebar), follow me Twitter, or "Like" StaceySays.com on Facebook.
Please note…this list of winners may change. Each winner has 48 hours to respond to me. If they do not respond within that time, then new winners will be drawn!