It may seem like I'm jumping the gun by talking about baby-proofing when Talon is only one month old but, like any parent who's been through the baby stages a time or two, I know that he will be rolling, crawling, and walking before I know it!  And, with a dog and two older sisters (and their various toys) in the house, baby-proofing this time around will be much different that before.
The best way that I could think of really seeing what and how we need to make sure our home is safe for a baby on the move is by getting down to Talon's level.  So, I enlisted the help of my 5 and almost 3 year olds and we made a little game out of it!  My 5 year old loves talking about "safety stuff" (since they talk about it at school quite often) and the almost 3 year old loves to do whatever her older sister is doing, so it was pretty easy to get their help!
Our "safety game" included the girls getting down on their hands and knees and crawling around the house, searching for things that might not be safe for their baby brother.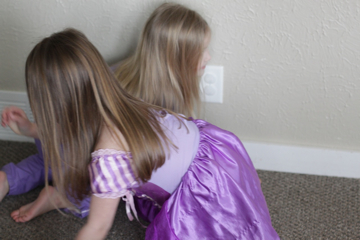 Here is what we came up with:
1.  Power Outlets – Unplug and Cover them up!
The girls know they are not allowed to touch power outlets.  Whether it is trying to plug something in or touch something that is already plugged in, they just don't mess with them.   However, babies don't know that, or so the girls pointed out to me.  While we do have our open outlets already covered with little safety covers, we did find one problem — plug-in air fresheners!
Before the baby starts moving we will need to move those plug-in air fresheners and our plug-in carbon monoxide detector and cover those outlets with safety covers.  Why? Because those plug-in air fresheners and the carbon monoxide detector can easily be pulled out by baby, exposing an outlet danger.  Not to mention that the air fresheners and such can be a danger in themselves for baby!
2. Baby Gates – Not just for stairs
Thankfully we don't have to worry about the danger of stairs in our house (the only stairs we have are closed off by a door), but we still have plenty of use for a baby gate!
Our kitchen and dining room seem to have the most "danger spots" for a baby in our home (tile floor, kitchen cabinets full of risks, dog food & water dishes, plant stands, etc.).  While I could go through and try to baby-proof those two rooms, the best way to baby-proof them is to simply keep baby out of them!  So, we will use the baby gate to block Talon's access to the kitchen and dining room!
If you can't gate off your kitchen or dining room, you'll want to look into some safety measures specific to your rooms, including latches for the fridge and oven, stove knob covers, and the next item….
3. The Bathroom – Cabinets & more
Even though I don't need these for our kitchen, we'll still need to look at these for our bathroom!  Even though the potential "danger" items in our bathroom cabinet are closed up tight in little boxes, I still want to keep Talon out of that cabinet.  There are lots of different cabinet latches out there, so make sure you find one that works well with your cabinets and that don't pose another safety hazard for your baby (i.e. pinched fingers!).
Other areas in the bathroom that the girls noticed that might be unsafe for Talon were the toilet and the small garbage can sitting next to the toilet.  The girls don't want Talon playing in the toilet or smashing his fingers with the toilet lid, so we'll be looking into a lock for the toilet lid.  We'll also be looking for a new place to hide our little garbage….possibly under the sink in our soon-to-be locked cabinet!
4.  Crib
I actually wrote about this a few weeks ago when I shared with you about Wonder Bumpers from Go Mama Go Designs.  The traditional bumpers found in cribs can be pretty unsafe for baby for a number of reasons (you can read more about those reasons in that previous post) and the Wonder Bumpers help to eliminate those safety hazards!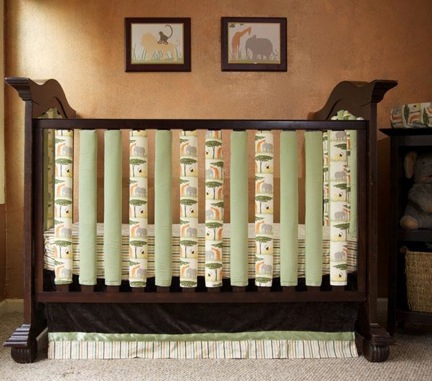 5. Big Sisters' toys!
This one is going to be the hardest area for our baby-proofing endeavors!  When Zoe was born, and even when she started moving around, Abbi was only 2.5 to 3 years old.  The toys Abbi was playing with were mostly board books, stuffed animals, baby dolls, and Duplo Legos (the big Legos).  All of which were big and pretty baby-safe.  Now, with a 5 year old and an almost 3 year old, the toys in our house have changed.  The toys in our house aren't really baby safe.  We have "little" toys — little Disney Princess dolls, Barbies and all their accessories (i.e. Barbie shoes), dress-up gear (rings and necklaces), paper-paged books, crayons.  Simply said, we having choking hazards up the wah-zoo!
How does one even begin to baby-proof that? Aside from me spending every waking moment picking up and putting away Barbie shoes and puzzle pieces???  Let's face it, as good as the girls are about picking up their toys after playing with them, I still find these little toys scattered around the house.  And, if anyone is going to find those little toys, it's going to be a baby who's face, hands, and mouth are mere inches from the floor!
Our plan of attack — We will spend the next few months really working with the girls to make sure the keep their toys picked up and put away.  Also, we're going to try to keep all those "little" toys confined to the girls' bedroom.  I know, it's not a fool-proof plan….it's not even a baby-proof plan…but it's our best attempt at this point!  Any other suggestions?  I figure it will only take one time of Talon drooling on their favorite Barbies and the girls will be more diligent at keeping them picked up and out of baby brother's reach!
Of course there are a lot of other safety measure you can take to keep your house baby-proofed, all of which will depend on your home and your needs.  For more safety tips in general, whether you are baby-proofing or not, you can visit TheSafestLine.com.
What are some ways that you baby-proofed your home?  I'm sure I'm missing a ton of baby hazards that I will find out about once Talon starts moving around, but you can save me the "Mom Fail" moments and share with me your Baby-Proofing Suggestions or your own Baby-Proofing Stories!!!