So far I have managed to keep my girls in the dark that we are going to the Disney On Ice: Princess Wishes show.  It's been hard though!  Every time they see the commercial on tv they sit in awe.  I cannot wait to see the looks on their faces when we walk into Van Andel Arena and they see all of their favorite Princesses!
I'm really hoping we can go early for the Pre-Show where the girls will have a chance to possibly meet a Disney Princess and "oooh" and "ahhh" over the different princess dresses on display!  Yeah, I'm a wee bit excited about all of this!!!
I'm also excited to announce the winners of the Disney On Ice: Princess Wishes tickets giveaway! Here they are:
Winner of the VIP Tickets to the "Family Night" performance (Sunday, March 12 at 6pm): Gina

Winners of the family 4-packs of tickets to a show of their choice: The Diaper Diaries, Jen P, Katie, and Amy Talsma
Congrats ladies!  I hope you all have a blast at the show!!!
If you did not win tickets, I'm sorry, but it's not too late to purchase tickets to a show! Tickets start out at just $15 ($12 for "Opening Night" Thursday 7pm performance and the "Family Night" Sunday 6pm performance using code "KIDS"). Showtimes include:
Thursday, March 10 at 7pm
Friday, March 11 at 7pm
Saturday, March 12 at 11am, 3pm, and 7pm
Sunday, March 13 at 2pm and 6pm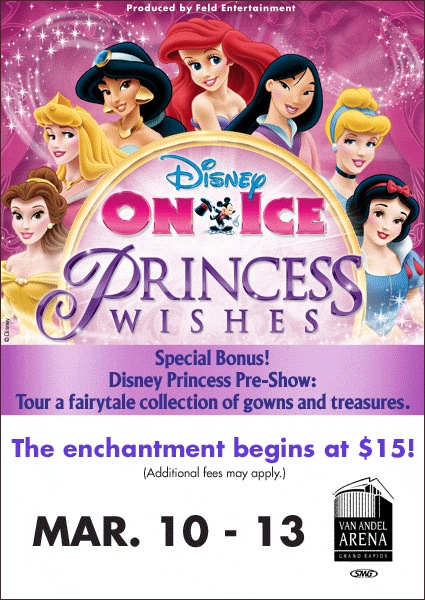 *You should know…I did receive complimentary tickets for my family to attend the opening night performance from Feld Entertainment as a part of this campaign.