Despite the fact that we are supposed to be getting freezing rain/snow this week, I still have Spring Cleaning on the brain!  This week we are cleaning the *hidden* areas of our house and taking care of those tasks that you just don't think about doing.  This week we are replacing batteries and filters!
I'll warn you right now, this is pretty embarrassing and kind of disgusting!
Filters
How often do you change the filter on your furnace?  Have you ever changed the filter on your furnace?  I'm really hoping you said "yes" to that second question, regardless your answer to the first question.  Here is my confession: I am horrible at remembering to change the filter on our furnace!  Horrible!  I couldn't even tell you when we changed our furnace filter last!
According to the Filtrete™ website, you should change your furnace filter, on average, every three months.  Umm…Opps!  Of course that recommendation needs to be adjusted depending on the circumstances in your home.  For instance, if you are doing construction in your house (especially sanding any furniture or drywall), if you have pets, if you smoke, or if you run your furnace fan constantly, then you'll need to change your filter more often!
Why is important to change your furnace filter every three months? The filter in your furnace helps eliminate the dust and allergens that would otherwise circulate through your home.  As Spring and the warmer weather slowly approach, we'll be keeping our windows open to let in that fresh air.  And with the fresh air comes the dust and pollen and other allergy provoking stuff.  The filter in your furnace helps reduce the amount of those little buggers from circulating through your house.  This is especially important to us because we have a newborn in our house now and I really don't want him breathing in all that yuck!
Ok, so speaking of yuck….I actually changed our furnace filter this week and I'm so ashamed to show you what it looked like. But I will!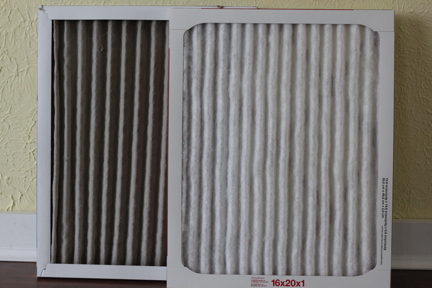 The filter on the left is the one from my furnace and the filter on the right is the new replacement filter.  Do you see how nasty and dirty the filter on the left is?  I'll tell you right now that the picture doesn't even do it justice.  It was disgusting!
With all of the allergens flying through the air here real soon, I chose to replace our filter (obviously long overdue) with the Filtrete Allergen Reduction Filter.  According to Filtrete that filter "captures 94 percent of large airborne particles (such as household dust, pollen and mold spores) and up to 40 times more microscopic particles (such as smoke, smog and particles that can carry bacteria and viruses) than ordinary fiberglass filters."  Sounds good to me!  And 3M and Filtrete are names I know and trust.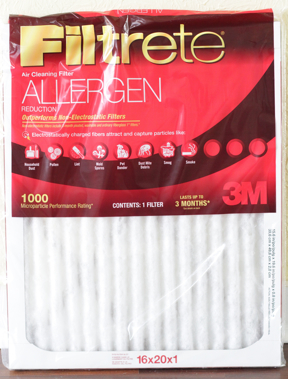 If you need help figuring out which filter is best for your home check out Filtrete's "Healthy Home Authority" tips.  While you're there you can also check out their water filters (have you changed your's recently?), print money saving rebates, and sign up for email reminders to change your filter when it's time.  I'm pretty sure that last one was designed with me in mind because it not only reminds you when to change that filter but it also reminds you which filter you need!  I can NEVER remember!
Batteries
In addition to replacing filters, it also seems an appropriate time to replace the batteries in your smoke detectors.  They (I'm sure exactly who *they* are) recommend that you replace the batteries in your smoke detectors at least once a year.  It seems pretty natural to time that with the changing of our clocks (either in the Fall or in the Spring).  We actually changed our batteries this past Fall when Abbi's preschool was doing it's "fire safety" lesson.  She's a stickler for doing what's "right" when it comes to big things like that.  However, we did forget to change the battery in our Carbon Monoxide detector and we do have a few smoke detectors who still need new batteries.  So, that's on our "to-do" list this week!
There you have it!  Your friendly reminder to Spring Clean those filters and batteries!  Next week I'm taking a break from physical cleaning and going to focus on some financial cleaning — Spring Cleaning Your Finances!
You should know…this post was written in part while participating in a blog tour by Mom Central Consulting on behalf of Filtrete and I did receive a gift certificate to thank me for taking the time to participate.  However, my opinions written here and elsewhere are 100% my own and are not influenced by compensation.