It's been five days since we "sprung forward" and moved our clocks ahead an hour. How has the transition gone for your family?
Our transition to the new time has not been as rough this time around as it has in years past. The baby isn't on any sort of schedule so he could care less if it's 7am or 8am. And it's actually been kind of nice with the girls — they've been sleeping in a little longer this week, which my sleep-deprived self appreciates.
The only real difference is that our typical 7:30pm bedtime has now been pushed to 8 or 8:15pm. In the grand scheme of things, it's not that big of a deal! We just need to be creative with what we do with that extra time before bed.

Since it's a bit too cold yet to be playing outside after dinner each night, we are looking at indoor things to do. One of our favorite things to do as a family is to have Movie Night!
This past week we watched an adorable animated flick called The Reef, featuring the voice talents of Freddie Prinze, Jr., Evan Rachel Wood, Fran Drescher, Rob Schneider, and Andy Dick.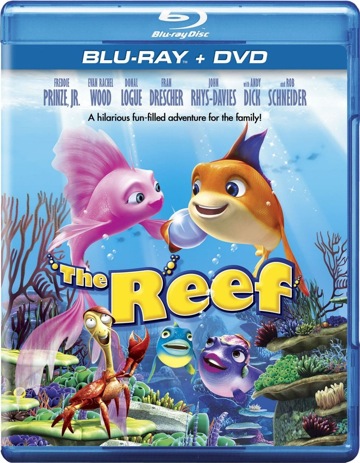 The Reef tells the tale of a young fish named Pi (Freddie Prinze, Jr.) who goes to live with his eccentric aunt (Fran Dresher) on the Reef. Shortly after arriving to his new home, Pi finds himself in love with a beautiful fish named Cordelia. However, love doesn't come easy for Pi and Cordelia because she has the unwanted affections of bullying shark who not only has it in for Pi but for the entire Reef.
As Pi enlists the help of a loner sea turtle (a very Mr. Miyagi & Daniel-san relationship), Pi realizes his own strengths and the power of friendship.
We really enjoyed The Reef with it's comedic moments and the lessons of friendship, bravery, and doing what's right. It was also nice to actually have a kids film that was rated G, as many of the animated films these days are rated PG instead. What I didn't really like were the talks of mysticism, fortune telling, and palm reading. Those themes weren't a dominate feature in the film, but it may cause older kids to ask questions…just a heads up!
All in all, The Reef was a very cute film and my girls really enjoyed it. If your kids liked Finding Nemo or Shark Tale, then they'll like The Reef as well! If you're looking for a fun Easter basket surprise or a new dvd to keep the kiddos occupied on those Spring Break car or plane trips, then definitely check out The Reef.
The Reef, originally hit dvd in 2006, was just released on Blu-ray/DVD Combo
earlier this month. You can pick up your copy of The Reef at most places where DVDs are sold or on Amazon.com.
You should know…I received a complimentary copy of The Reef on dvd from Vivendi Entertainment so that I could bring you a personal review. Receiving complimentary products or compensation in no way affects my opinions stated here. Opinions and recommendations are 100% my own.