I am now seven weeks into this whole surviving-on-very-little-sleep adventure and I think I've discovered the secret to survival.  And it has nothing to do with caffeine!
For me it is a combination of two things.  If I have these two things each and every day, I feel less zombie-like and just a little more human!  My two must-haves? A hot shower and a minty fresh mouth!
Sounds strange, I know, but somehow the combination of those two things gets me going and keeps me going most of the day.  Granted, I'm still sporting the raccoon look with the dark circles around my eyes, but somehow it's working for me.
While I'm really only able to get one pretty short shower in the morning, I am figuring out ways to freshen up my mouth throughout the day to give me that little pick-me-up, aside from the typical brushing.
When I'm out and about I just pop in a piece of gum to bring be back to that minty-fresh feeling.  But, when I'm at home, I've been turning more towards mouthwash/rinse.  Specifically, I've been testing out the Crest® Pro-Health® Invigorating Clean Multi-Protection Rinse.  Phew, that was a mouthful!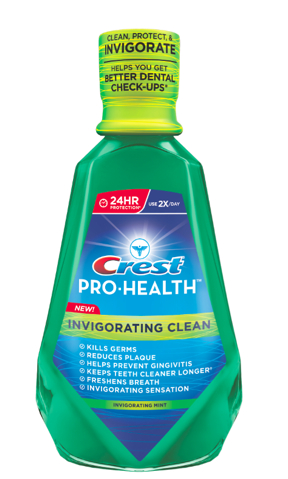 Typically I don't use mouth rinse as a part of my daily routine but I'm eager to see if this will help improve my energy and maybe even curb my snacking!
The ingredients in the Invigorating Clean Multi-Protection Rinse are supposed to "provide an invigorating sensation during use and a lasting cool freshness after use."  And I must say, it actually does!  It does a great job of eliminating that lingering taste of 'gold-fish crackers' from that mid-morning snack with the kids.  And, this is probably my favorite part, the long lasting minty fresh feel is somehow helping me steer clear of the candy and other junk food in my kitchen.  With a minty fresh mouth, I just don't crave those sweets as much.  Weird, I know!
Of course the idea that it's killing germs, reducing plaque, and helping to prevent gingivitis is always good, too!
So, I'm going to keep trying the Crest® Pro-Health® Invigorating Clean Multi-Protection Rinse for the next few weeks to see if it, along with my five minute daily shower, can keep me feeling somewhat human until baby boy decides to sleep longer than 2.5 hours at a time!  All else fails, at least I'll have minty fresh breath and clean teeth! As far as the sleep goes….well, I can always use toothpicks to keep my eyelids open!!!
What are your tricks to feeling a little more human, or at least awake, when you've been robbed of sleep…whether that's from your new little baby or staying up all night partying?
You should know…I wrote this review while participating in a test drive campaign by Mom Central Consulting on behalf of Crest and received a sample to facilitate my candid review. Mom Central Consulting sent me a gift card to thank me for taking the time to participate. All opinions stated here are my own.