We kicked off our Spring Break staycation with a special movie & art project combo!  The girls have been begging to see the new Barbie movie, "Barbie Fairy Secret", ever since they saw the previews on tv and the got the little dolls in their Happy Meals.  Honestly, I've never seen a Barbie movie and wasn't too sure if I wanted to see this one.  But, sometimes as parents, we need to just suck it up and do it for the kids.  And that's what I did.
With the weather for this week looking pretty gloomy, we made our way to Walmart to pick up some art supplies for the projects I have planned for this week and, while we were there, that certain Barbie movie made it's way into our cart.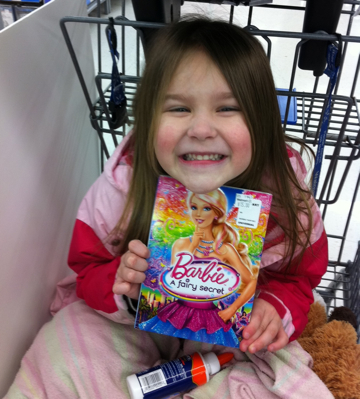 The art project…
To kill a little more time and fight of those "I'M BORED" moments, we coupled our movie watching with a fun art project!  We created our own Barbie Fairies!  Here's what we did:
First we gathered our supplies:
Elmer's foam board
Paper doll template
Elmer's glue
Glitter paper
Magnet strips
*Pictured but not used: Elmer's Construction Paper. Used but not pictured: scissors & crayons. I'll explain these in a minute.
You can also see more of our Walmart shopping experience by checking out my story on Whrrl.
How we made our Barbies:
We used paper doll templates that I found online at FamilyFun.com.  The template gives you the doll and even some different dresses and hairstyles.  Of course there are other templates out there that you can use or you can just draw your own, because I know you're more artistic than me!
After the templates are printed, cut out the dolls and glue them on to the Elmer's foam board to make them a little more durable.
Once the glue is dried, cut the dolls out of the Elmer's foam board.  Pay attention here…BUY AN EXACTO-KNIFE!  I forgot to get one and tried using scissors and a knife, which made it more difficult and left the outline of the dolls a little rough.
Now let the kids go to town coloring and decorating the dolls.  You can use whatever you like — crayons, markers, whatever.  We had intended on making dresses out of construction paper for our dolls but the girls decided they liked the outfit she was wearing already (Phew! Less work for mom!).

Grab that glitter paper and make some fairy wings!  Here's a little warning though…if you use the same glitter paper as we did, be prepared for a glittery mess!  It's a pretty mess, but a mess.  The nice thing about this glitter paper is that it's thicker, almost like the Elmer's foam board.  You certainly don't have to use this glitter paper for the wings.  You can make them out of whatever you like!  Some ideas — use the Elmer's foam board or cardboard and spend time decorating wings with markers or glitter.  Just make sure they are thick and durable, like the dolls.
Cut out wing shapes on the paper/foam board you are using for wings and decorate the wing shapes if you like.

Glue a piece of the magnet strip onto the back of paper doll and the front of the wings.  The magnet strips are already sticky but they tend not to stick well to the glitter paper.  Gluing them on the glitter paper works best.
Voila! You have your very own Barbie Fairies!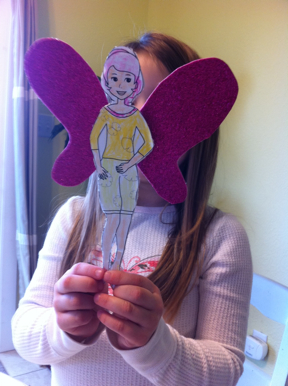 The reason we used the magnets to attach the wings to the doll is because then you can have multiple sets of wings (different colors, different styles) and your little one can switch the wings as often as they like.  We all know that Barbie likes her accessories so why not give her a few different options of wings!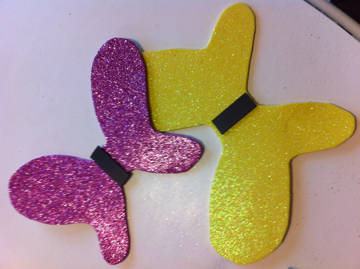 The best part of this project is that you can be creative or as simple as you like!  Use whatever you have in your craft box to decorate those wings or just leave them plain.  You can also create more wings if your child is bored the next day!
The movie…
As skeptical as I was about Barbie Fairy Secret, I was pleasantly surprised at how cute it was! It really was a cute story about friendship.  And I liked that there was action and suspense (as much as there can be in a Barbie movie) without it being scary for the girls.  Also, it's fun to have a movie where the girl is the hero instead of the damsel in distress!
The girls really loved it and gave it to very big "glittery" thumbs up!
Your daughter can join Barbie on her fantastic journey in the magical secret fairy world! Barbie discovers that fairies live around us, and Ken™ has been taken to a secret fairy world not far away. Barbie and her rival Raquelle™ must stick together to bring him back, and learn that real magic lies in the power of friendship.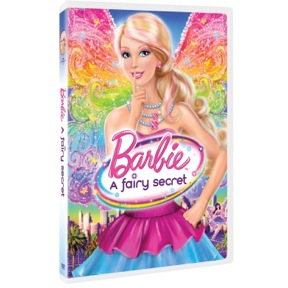 You can see a preview of the movie at Barbie.com and you can purchase the dvd at your local Walmart!
Let me know if you make your own Barbie Fairies with your little ones this week or if you have another art project idea that you can combine with a movie!
You should know…This post was done in part as a social shopper insights study for Collective Bias. I was compensated for my time and materials.  All opinions stated here are 100% my own (and my girls') and are not affected by compensation.