A few weeks ago I told you about my quest to feel somewhat human even while I'm getting very little sleep. Well, I wanted to update you as to how that quest was going! Specifically, whether or not I was still liking the Crest Pro-Health Invigorating Clean Multi-Protection Rinse (wow, that's a long name!).
The quick and simple answer is Yes, I'm still using the rinse and am really enjoying it! It is so nice to have a clean feeling mouth even after a cup of coffee in the morning.  The more interesting answer is that my husband has actually been using the rinse as well!  And I was really amazed at what he thought!
My husband is a stickler for fresh breath!  From sun up to sun down he almost always has a piece of gum in his mouth.  I think bad breath is one of his pet peeves or fears or something.  But he's admittedly never used mouth rinse.  He actually started using the Crest Pro-Health rinse when he had a piece of popcorn kernel stuck back by his wisdom tooth.  He saw the rinse sitting on my shelf and thought it might help to get that kernel out.
After that first use he enjoyed how fresh it made his mouth feel that he kept using it.  Of course he didn't tell me this right away and I was left wondering why my rinse was disappearing so quickly!  After he came clean about using my rinse, he said, "This stuff is crazy! My mouth feels fresh all day!"
A few days later he again said, "Seriously! My teeth no longer feel fuzzy in the afternoon. Even when I forgot to use the rinse the other morning, my teeth still felt clean from using it the day before!"
It takes a lot to impress my husband when it comes to products.  He finds products and routines that he likes and sticks to it.  I would have never believed that he would use mouth rinse.  But now he's hooked!
As I said, I still like it too. It is really, really nice to have a fresh-feeling mouth when I am up with the baby in the middle of the night.  I really hate morning breath and to have that nasty morning breath feeling at 12am, 3am and 6am…well, it just makes those times a little less fun.  Since I've been using the Crest Pro-Health Rinse, that 12am, 3am, and 6am breath isn't nearly as bad…or at least I don't think it is.  Baby boy doesn't really complain about my breath as long as he's being fed!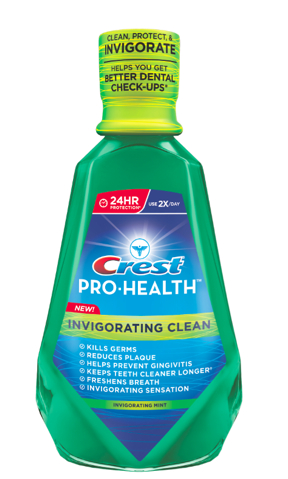 What about you? Do you regularly use mouth rinses?
You should know…I wrote this review while participating in a test drive campaign by Mom Central Consulting on behalf of Crest and received a sample to facilitate my candid review. Mom Central Consulting sent me a promotional item to thank me for taking the time to participate. All opinions stated here are my own (and my husband's).