I often write about  my kids here at StaceySays, but sadly neglect to tell you about our more needy member of the family — Jasper!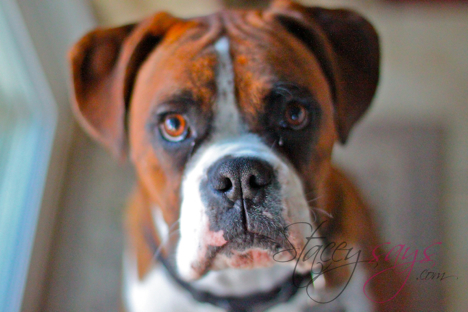 Jasper is our Boxer.  We got him as soon as he was weaned from his mom, almost two years ago this Mother's Day.  Throughout those two years he has definitely secured his spot in the family.  The girls love playing with him in the yard and snuggling on him in the mornings.  Tim likes having yet another male in the house and I like having the security I feel having him in the house when Tim is gone.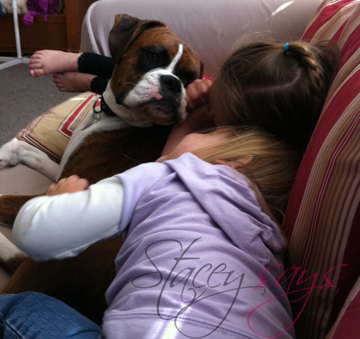 As much as we all love Jasper, there is one thing we don't love about him….he is the gassiest dog EVER! I kid you not! His gas will clear a room.  And it's not that silent but deadly gas that people like to kid about — *snif, snif* Oh sure, Blame it on the dog! — His gas is anything but silent!  It is almost that much worse when you actually hear the gas escape from his body, knowing you only have mere seconds to get out of the room or seal off your nose!
We love him, despite his gas, but I'm constantly on the lookout for ways to eliminate that feature. One way that we are working on right now is by switching his food.  Jasper is pretty sensitive to food, or so we think.  Our Vet thinks he was getting ear infections because we were feeding him the beef flavor of his dog food instead of the chicken!  Crazy!!!
Aside from that minor change, we have been pretty much feeding him the same brand and flavor of dog food since we got him.  It's been working pretty well until recently where we feel his gas issue has gotten worse. And let me just say….YUCK!  So, we're trying out a new food.  We are trying Pedigree Large Breed® Nutrition for Dogs.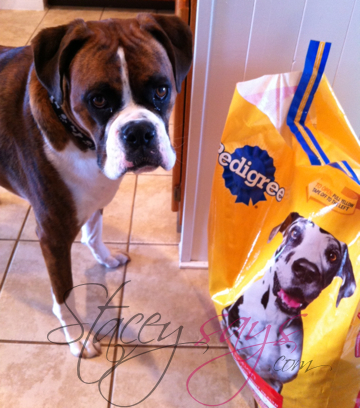 The first thing I noticed when I opened the bag of Pedigree was how much bigger the kibble was than our original brand (Purina ONE SmartBlend Chicken & Rice Formula).  I mean, seriously, the Pedigree kibble is 3-4x the size of the other kibble.  So, that got me thinking…I wonder why such a big size difference?  So, I checked the Pedigree website to see what they said about their brand and it says, "Puppy and adult large-breed dogs love this tasty recipe and larger-sized kibble that helps to reduce gulping."
Gulping?  Could that be it? Is that why he's so darn gassy?  Because the other food was so small that he was "gulping" and taking a lot of air when eating, thus producing extra gas???  Well, I guess we'll find out!
I'll also be interested to see how the Pedigree® Dry Food helps to keep his teeth clean. They have specifically designed and included "x" shaped kibble to help clean teeth down to the gum line.  I'm hoping that cleaner teeth with result in fresher breath, too!
If you're interested in or are looking for a new dog food for your four-legged baby, whether he's small enough to carry or big enough to carry you, check out Pedigree.com to figure out what food is best for your canine.  While you're there, don't forget to print your $3 off coupon!  Oh, and, if you're on Twitter, join @MomCentral and @DadCentral on Thursday, April 28 from 3pm – 4pm (EST) for the #Pedigree Twitter Party (I hear there will be some nice prizes given away!).
And, you can always check back here as I'll be updating you on our progress and how the switch works for us!!!
Ok, one more thing….have you seen the Pedigree commercials where the dogs have these crazy toothed-grins?  I love them! Well, if you visit Pedigree.com, you can Denture Your Dog!  Here is what Jasper would look like with a little doggy bling-bling:
If you have a dog, I'd love to hear about what brand/type of food you feed your dog and why!
You should know…I wrote this review while participating in an Ambassador campaign by Mom Central Consulting on behalf of Pedigree and received dog food to facilitate my reviews and a gift code to thank me for taking the time to participate. While I will be compensated for my time while working on this campaign, Jasper and I will be bringing you our honest and personal opinions on the brand and product.