With Easter just around the corner and me in desperate need to keep my girls busy on this Spring Break, we decided to make our own Easter baskets this week.
Instead of buying a ton of supplies, we first scavenged through our recycle bin and craft box to see what we could use for our #GlueNGlitter project.  The empty half gallon 'cardboard' drink containers we found got my creative wheels turning!
After a quick trip to Walmart for a few basic supplies, the girls and I were ready to create our 'recycled' Easter baskets! (You can view more about our shopping trip on Whrrl.) Here are the supplies you'll need to create your own basket:
Empty 1/2 gallon 'cardboard' drink containers
Foam paper, card stock, or thin cardboard
Elmer's White School Glue
Elmer's glue stick
Elmer's colored construction paper
Scissors and/or exacto-knife
Stapler
Foam brushes
Other decorations*
*This is a great time to clean out your crafting supplies.  You can use whatever you like to decorate your boxes — stickers, markers, paint, glitter paint, etc.
Now let's get crafting!
Step 1: Use scissors or an exacto-knife to cut your 'cardboard' container.  Depending on the size of your container, you'll want to cut it pretty much in half.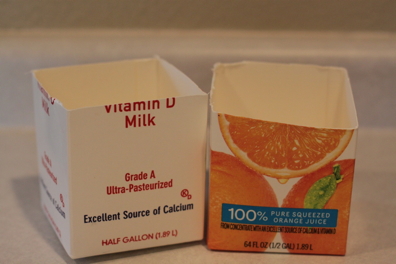 Step 2: Cut out the handles for your basket.  We used foam paper because we had it on hand and it seemed to work really well.  You can use cardstock, thin cardboard, or even pipe cleaners.  Our handles are 12 inches long and 1 inch wide.  The size of your handles will depend on the size of your basket.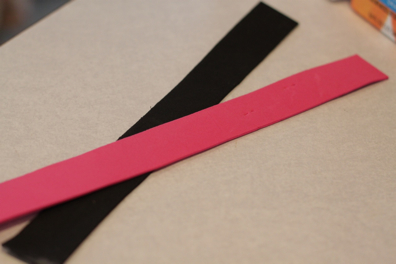 Step 3: Staple your handles onto your cut container.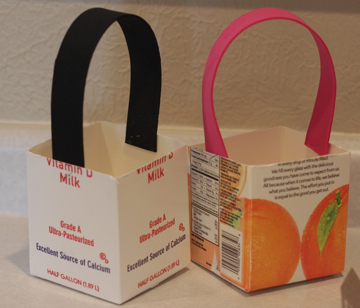 Step 4: Measure the height of your cut container.  Then cut out strips or squares of Elmer's colored construction paper to cover the outside of your cut container.  We mixed it up and used some patterned scrap-booking paper that we had on hand.
Step 5: Use a foam brush or sponge to spread Elmer's White School Glue onto the outsides of your container and cover the outside of your container with the cut strips or squares of construction paper. Let dry.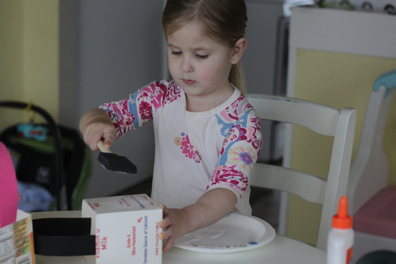 Step 6: Let your child use glitter paints, stickers, markers, etc. to decorate the outside of the baskets. We happened to have some heart, star, and bow stickers on hand so our baskets quickly began looking more like Valentine's baskets rather than Easter baskets! Probably should have bought some Easter or Spring stickers!  We did use some chalkboard stickers so the girls could write their names on their baskets.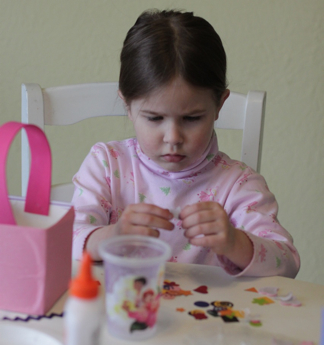 Step 7: After your baskets are decorated and dry, it's time to fill them!  Again, use whatever you have!  Some options — shredded paper, crumbled up plastic grocery bags, or even extra packing materials, like bubble wrap.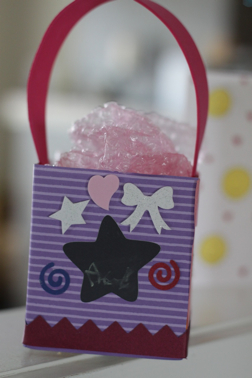 We ended up making our baskets into little flower pots for some Spring flowers by simply filling the baskets with potting soil and sprinkling in some seeds.  Because our baskets were made from 'cardboard' drink containers, they should have no problem holding in the moisture from the soil and water. Remember, I said *should*!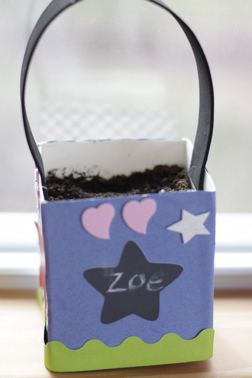 And here are our finished baskets, sitting on the window ledge, waiting for the flowers to grow!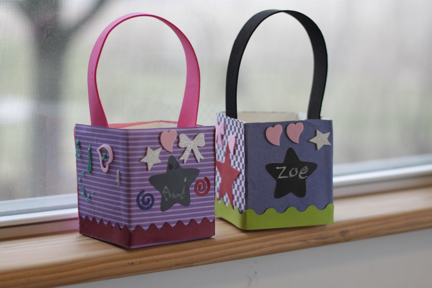 Our baskets turned more into "Spring-time" flower baskets instead of Easter baskets but I still think they are cute.  So, you could easily make these as Easter baskets, Spring baskets, or even May Day baskets!
Have fun!
* You should know…This project has been compensated as part of a social shopper insights study for #CollectiveBias.  All opinions stated here are my own.