Honestly, this has got to be the dreariest, gloomiest Spring Break on record! I WANT SOME SUNSHINE!
Ok, now that I got that out of my system, the girls and I did decided to combine two of their favorite activities to help pass the time of Spring Break…a movie and nail polish!
My girls were super excited when the newest Strawberry Shortcake dvd hit store shelves at the end of March. They adore Strawberry Shortcake and I love sharing my favorite childhood character and all of her "fruity" friends with them! It's so fun to have this one group of characters that links our two generations.
Strawberry Shortcake: Puttin on the Glitz
features Strawberry Shortcake and her friends as they makeover their hair, nails, and friendships!  Each segment on the dvd teaches great lessons about the importance of friendship and honesty, all the while having "fruit-filled" fun!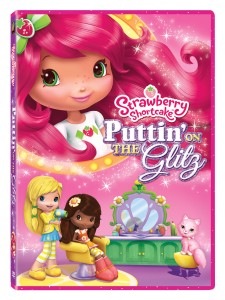 My girls absolutely loved this dvd.  They loved it so much that they continue to ask if we can watch it again and again.  So, since it was inevitable that we would be watching again (and, really, I didn't mind watching a few more times either), we decided to add a fun activity with our movie watching…our very own GLAMICURES!
Glamicures are  a part of one of the segments on the Strawberry Shortcake: Puttin on the Glitz
dvd.  Without ruining the show for you, I'll just tell you that they are a special and unique type of manicure.  So, while we were at Walmart doing some grocery shopping, I let the girls to pick out their own color of nail polish!  They were so excited that they got to pick out whatever color they wanted!!!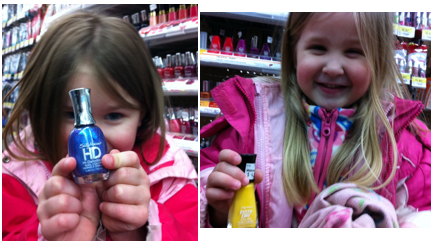 Abbi (left) picked the blue sprarkly Sally Hansen Hi-Definition Polish and Zoe (right) picked a bright yellow polish from the Sally Hansen Insta-Dri line.  Loved how quickly the Insta-Dri polish actually dried!  Ideal for a little one who doesn't like to sit still more than a minute or two!  You can view more details about our shopping experience on Whrrl.
The girls took their bath right after dinner so we could get their fingers and toes nice and clean and then we went to work on their glamicures as we watched Strawberry Shortcake: Puttin on the Glitz
once again.  The girls thought it was awesome!  They love getting their nails painted and thought it was so fun that they were painting their nails while Strawberry Shortcake and friends were painting theirs.  Of course they were disappointed when they found out we couldn't eat popcorn with our wet finger nails.  Can't have it all girlies!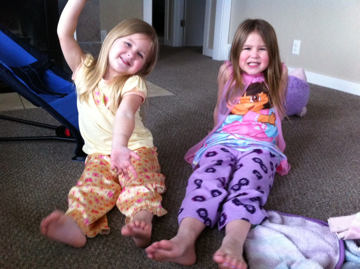 I'm really liking the idea of coupling an activity with a movie.  The kids love it and it's actually more fun than just plopping down and watching a movie. You can pick up Strawberry Shortcake: Puttin on the Glitz
at your local store or on Amazon.com.
What are some activities you've come up with that go along with a movie? I'd love some more ideas!  And, if you're looking for more ideas, check out the 'paper' Barbie dolls we made earlier this week.
You should know…I did receive the Strawberry Shortcake: Puttin' On The Glitz dvd as part of a review campaign from Twentieth Century Fox Home Entertainment.  I also participated in a compensated social shopper insights study for Collective Bias for Sally Hansen nail polish.  This post, however, was not a requirement for that study and all opinions stated here are my own.