Well friends, we have once again entered the camping world! Can you heave the eruption of cheers coming from my husband and children?
After 18 months of looking (sheesh!), we finally found a camper option that would seemingly work perfectly for our family and fits all of our criteria:
My daughter, Abbi, is already in love with it and we haven't even camped in it yet, to her dismay!  I think she asks my husband every night if they can go sleep out in the camper.  Sadly, she has about 3 more weeks before our first camping trip.
"THREE WEEKS MOM?!?! That's like FOR-EVER!"
I guess three weeks does seem like forever when you're five, especially when you have dreams of roasting marshmallows and making s'mores dancing around in your little head.  So, while our actual camping trip is still off in the distance, I thought maybe  it would be fun to make some s'more like treats!
Signature Brands, the fabulous people behind brands such as Betty Crocker and Cake Mate, have introduced a very new delicious line of icings.  Among those icings is a Hershey's S'mores Desert Icing.  Umm, yes, that does sound delicious!  Abbi thought it was so unbelievably cool that they some how fit s'mores into that package of icing and she would have been just as happy to squeeze it all directly into her mouth!  But, instead, we made these little treats:
S'mores Whoopie Pies
What you'l need:
1 box of Betty Crocker® Original Supreme brownie mix with Hershey's Syrup

2 eggs

1/4 cup oil

1/4 cup water

1 pouch Hershey's S'mores Icing, Traditional Flavor

cookie sheet

parchment paper

cookie cutter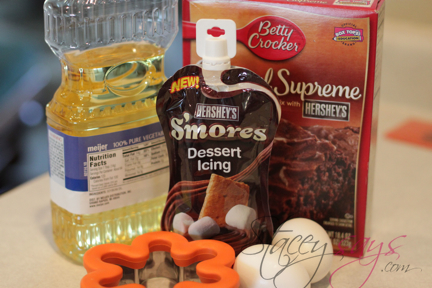 How to make them:
Preheat the ove to 350 degrees and line a rimmed cookie sheet (I used an 11×17) with parchment paper.  If the paper doesn't cover the edges, then grease those.  We don't want any sticking!
Stir the brownie mix, pouch of Hershey's syrup, water, eggs, and oil in a medium bowl until it's all mixed up nicely. Mine always has lumps, what can I say.

Spread the batter in a thin, even layer on the covered/greased cookie sheet.
Bake for 15-18 minutes. You want the brownies to be springy when you touch them.
Let the brownies cool for 10 minutes.  Seriously, walk away!  Leave the house!  Otherwise you'll never make it to step 6!
If you still have brownies left and they are cool, grab your cookie cutter and start cutting shapes.  I did not have a circle shape (which probably would have worked best) so I started using this flower shape.  Big mistake!  The brownies were hard to get off that cutter, so I moved on to the star shape and it worked like a charm!

After you cut out all your shapes (you'll want to make sure you have an even number), spread some Hershey's S'mores Icing on to one shape and cover it up with another, creating a little sandwich…or whoppie pie! You can easily attache a Cake Mate decorating tip right to your icing pouch!

Eat.  Ok, now put that second one down and walk away.  Seriously!  You do remember that swim suit season is approaching us, right?
Also, you'll probably end up with some brownie 'extras' from your cut outs.  So, maybe plan ahead to do some brownie sundaes that night.  Or you might be able to freeze them for future brownie sundaes.  I just ate mine straight up.  Yup.  All of it.  No regrets.
They were delicious, as if I even had to tell you that.  My husband was worried that the Hershey's S'mores Icing would make the whole thing to rich but we were both pleasantly surprised.  The icing was a perfect fit!  Just the right amount of sweetness!!!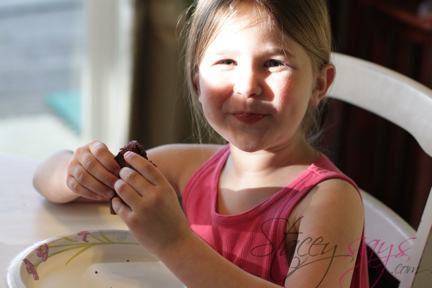 In addition to the Hershey's S'mores Icing (Traditional Flavor) Signature Brands has also introduced Hershey's S'mores Chocolate Cinnamon Icing, OREO Ultimate Icing Original Creme, and OREO Ultimate Icing Chocolate Creme. My mouth is watering just talking about them!  Signature Brand has also come up with some other delicious recipes that incorporate these new icings.  And they all sound perfect those Memorial Day and Summer picnics coming up!  You can check out SignatureBrands.com for some of those recipe ideas or download this PDF.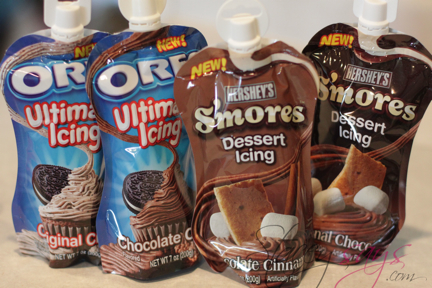 Now, we're off to make the OREO Brownie Bites with the OREO Original Creme icing!  It's raining…AGAIN…and we need some comfort food!
Oh, and if you come up with another recipe that you can use these new Signature Brand icings, let me know!  I can always use another good desert recipe!!!
You should know…this post was inspired by a campaign with Signature Brands. I did receive complimentary products and/or compensation for my time. However, all opinions stated here are my own.