This is a fun little twist on the classic No-Bake Cookie, just in time for Spring!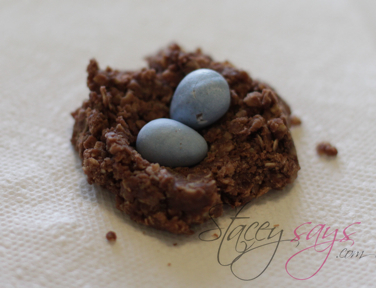 These are so simple to make and your kids will love them.  You can use your favorite No-Bake Cookie recipe or follow the one I use…
What you'll need:
2 cups sugar
4 tablespoons cocoa
1 stick butter
1/2 cup milk
1 cup peanut butter
1 tablespoon vanilla
3 cups oatmeal
waxed paper
candy coated chocolate eggs or jelly beans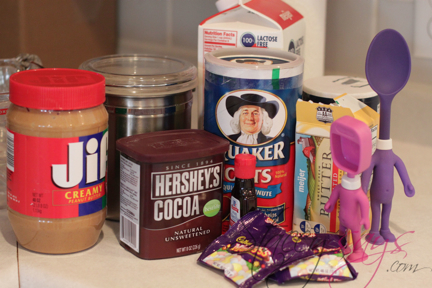 What to do:
In a medium saucepan, mix the sugar, cocoa, butter, and milk.  Bring to a boil and let boil for 1 minute, stirring occasionally.
Remove from heat and add peanut butter, vanilla, and oatmeal.  Mix together.
Drop spoonfuls of the cookie mix on a sheet of waxed paper.
Let the cookies firm up but still pliable.  Use the back of a teaspoon to make indentations in the middle of the cookie.

Place the candy coated chocolate eggs or jelly beans in the middle of the cookie "nest".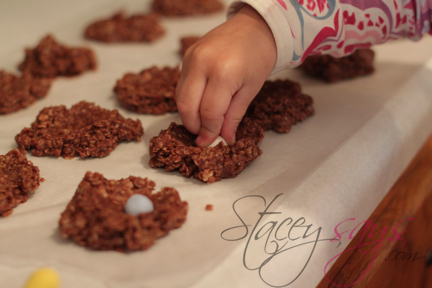 See?  So super easy but the kids are going to think they are the best thing ever!  We had left over candy eggs from Easter, which worked perfectly, but you can use jelly beans, which are usually available all year in the candy aisle or bulk food bins at most grocery stores.
Enjoy! And have fun!