The other night I sat the girls down for dinner. Like any other night, I was prepared for the battle.
UGH! Do we have to eat this?
Yes, you do.
All of it?
Yes.
Buuuuutttt….
But nothing! It's chicken and corn. You like them both. Eat it.
(mind you, they only have like three bites of each on their plates)
But we don't like chicken and corn! This isn't fair!!!!
No, what's not fair is the fact that that you're complaining about eating this when there are lots of kids who have nothing to eat tonight.  They would be excited to have this for dinner. Now eat!
The rest of our dinner time was spent talking about those kids. The kids who would be going without anything to eat that night. The kids who wouldn't have anything to eat the next night either. My girls know that there are "kids who don't have anything" but it really hit home when I explained to them that those kids might be ones that live just down the street from us or the kids they play with at school or church.  Then it became a little more real to them.
No, I don't expect this conversation to end our dinner-time battles or for my 5 year old or 3 year old to really grasp what we were talking about, but it's a conversation that needed to be had.  It's a conversation that needs to be had often.  And it's a conversation that needs to move from talking to action.
That's why I was very excited when I learned about the Child Hunger Ends Here campaign.
Did you know that nearly "1 in 4 kids in America doesn't know where their next meal is coming from*"? That makes me so sad! In a country as wealthy as ours…in a country who loves to extend their assistance globally…our own kids are going hungry!  And helping them is as easy as feeding our own families!
ConAgra Foods® has teamed up with Child Hunger Ends Here® to help provide meals to Feeding America.  At your local Walmart, you'll find specially marked ConAgra brand foods — you'll see the large Child Hunger Ends Here red push pin!  Some of those foods include Peter Pan peanut butter, Banquet frozen meals, Healthy Choice soups, Healthy Choice Mixers, Healthy Choice Steamers, Chef BoyArdee Ravioli, Marie Callenders frozen meals, and (my kids' favorite) Kid Cuisine.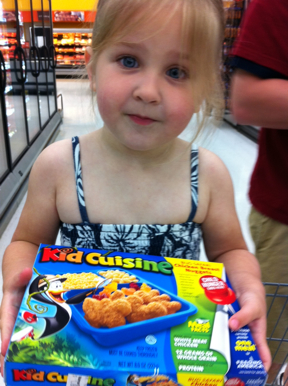 Simply purchase those specially marked foods (you can check out our recent Walmart shopping trip here), go home, and enjoy your dinner!  Before you toss that packaging into your recycle bin, check out the code on the back!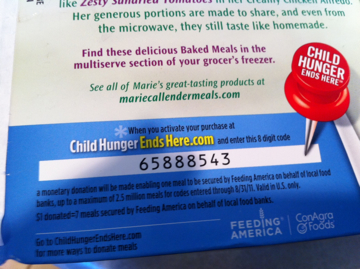 Then, head on over to the Child Hunger Ends Here website and enter your code.  It's that easy!  For every code you enter, one meal is donated to Feeding America! Honestly, it's that easy!  And, for every code you enter, you'll be able to print a coupon for one of your favorite ConAgra products.  Not only are you feeding your family and helping to feed others, but you're getting a coupon to save on your next purchase! Love it!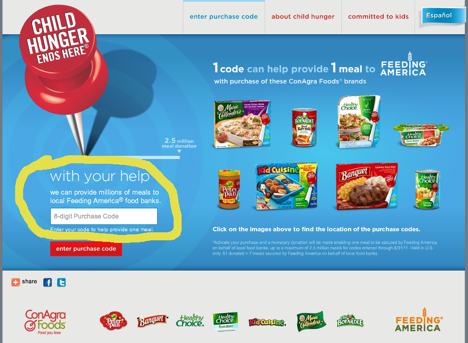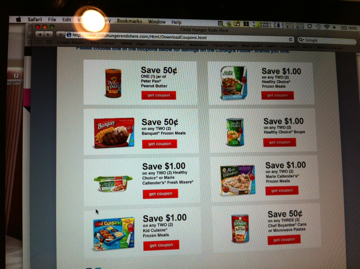 So, the next time you're out shopping, keep an eye out for that big red push pin!
Oh, and yes, they did finish their chicken and corn that night.  We'll see how it goes tonight though! It's chicken and green beans…fingers crossed!
I'd love to know…what are some tricks you use to get your kids to eat what's for dinner?  And, have you talked with your kids about child hunger?
You should know…this post is written as part of a social shopper insights study for Collective Bias.  I am being compensated for my time but all opinions stated here and in my shop experience are my own.
*quote is from ChildHungerEndsHere.com