A few weeks ago I told you about Jasper, our 2 year old Boxer, and how he is the gassiest dog I've ever met!  In an effort to cut down on that foul smell escaping from our lovable canine, we are trying out Pedigree Large Breed® Nutrition for Dogs.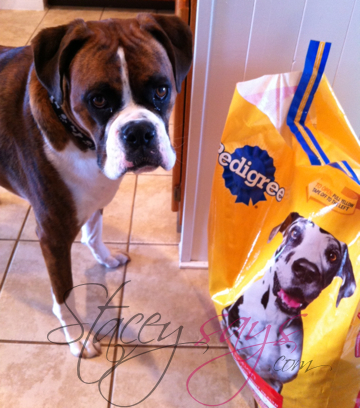 Well, I'm happy to report that Japer's gas has gotten better! Woo Hoo!!!  I honestly think it has something (or mostly) to do with the fact that the kibble in the Pedigree Large Breed food is larger and he's not gulping so much.  When he's eating he's not taking in nearly as much air.  Therefor his belly is filling up with food rather than air!
Yes, he still has gas.  That's inevitable!  I'm pretty sure that if Pedigree had completely solved the problem of dog gas then it would be hitting the news like nothing else!  But I'll definitely take this improvement!  I think Jasper is happier, too.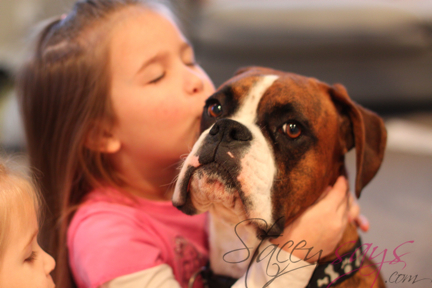 I've also been checking out his teeth since we switched over to Pedigree and I'm noticing that his teeth appear cleaner. Again, it just makes sense!  The larger crunchy kibble  and the specialized "x" shaped kibble are helping to break up and clear off the plaque on his teeth.  Our previous food was smaller and had some soft food mixed in with it.  I just don't think the smaller and softer kibble was doing anything but putting more plaque on his teeth.
Pedigree Large Breed® Nutrition for Dogs is supposed to also promote strong healthy bones and joints, but I can't really attest to that.  Jasper's a pretty healthy dog and I can only hope that this food will keep him that way!
We're going to keep trying the Pedigree Large Breed® Nutrition for Dogs for a few more weeks now that we've made the complete switch from his old food to this food and I'll let you know how the gas issue works out.
In the mean time, don't forget to visit Pedigree.com for your $3 off coupon and follow Pedigree on Facebook and Twitter for even more specials, discounts, and info!
You should know…I wrote this review while participating in an Ambassador campaign by Mom Central Consulting on behalf of Pedigree and received dog food to facilitate my reviews and a gift code to thank me for taking the time to participate. While I will be compensated for my time while working on this campaign, Jasper and I will be bringing you our honest and personal opinions on the brand and product.