We are officially on Summer break in our house.  Notice how there's no exclamation point at the end of that sentence? Yeah, that's because there's not a whole lot of excitement behind it.
Yes, we are excited for Summer, the warmer weather, playing outside, and some trips we have in the works.  But it's only May.  Abbi's preschool ends their semester a month before the other schools around us.  I'm not sure why, but it has us both disappointed.  I'm left trying to figure out things to fill our days now and Abbi is sitting here bored out of her mind while I figure it out.  We both could have used another month.
I'm also not quite ready for her to not be a preschooler.  Now she's a kindergartener and that official school talk makes me sad.  Because, after kindergarten comes middle school and then college and then she's gone.  Kindergarten is that first official step into the world.  With recesses and big kids at her school.
Just 8 short months ago we were getting ready for the first day of school and she was clinging to my then-pregnant belly, begging me to stay with her.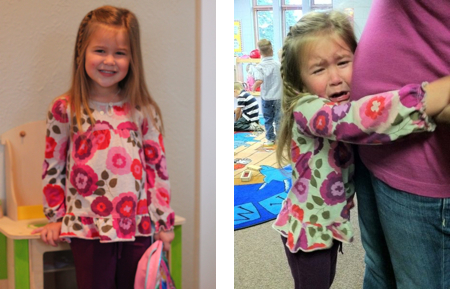 On Friday she got ready for her last day of preschool and then, before leaving her  preschool for the last time, she squeezed each of her teachers oh so tightly.