Earlier this week we took Jasper to the Vet for his check-up and to update all his vaccines. (I say we, as in me and ALL three kids.  Yeah, the looks I was getting while there were something else.)  Everything seemed to look good, aside from his apparent weight gain.  I'm not sure if it is sympathy weight from when I was pregnant or a little extra winter warmth, maybe it was both, but this dog has gained an extra 10 pounds in six months!
Despite the weight gain, the Vet was very pleased with Jasper's overall health.  She was especially impressed with the condition of his skin and coat and how clean his teeth were!
I mentioned that we had recently switched to Pedigreee Large Breed® Nutrition for Dogs and she agreed that the larger kibble was definitely a better choice for Jasper.  She was glad the switch was helping with his gas and keeping his teeth and gums healthy.  If the food hadn't been helping with is gas she was going to suggest some sort of gas-x medicine.  Really? This dog is more work than kids sometimes!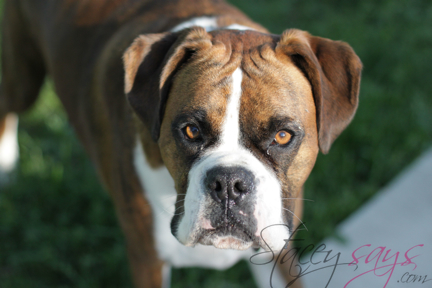 After trying Pedigree Large Breed Nutrition for Dogs for the past 6 weeks or so, I would definitely say that we are happy with it and will continue to use it, as long as Jasper is healthy and happy with it.
It's tough finding a good and affordable food when you have such a big dog!  There are days I feel as though he is a bottomless pit!!! I would say that Pedigree is certainly affordable (it is comparable to our previous brand of dog food) and it accomplishes exactly what we want — keeps Jasper healthy and fed, helps keep his teeth clean, and drastically cuts down on his gas!
Now we just need to get his sleepy dog butt up and exercising so he can lose those 10 pounds! Otherwise, next time I'll be telling you about our switch to Pedigree Healthy Weight Food for Dogs!!!
Don't forget to check out Pedigree.com for more nutrition information and your $3 off coupon, @PedigreeUS on Twitter for fun deals and tips, and Pedigree Adoption Drive on Facebook.
You should know…I wrote this review while participating in an Ambassador campaign by Mom Central Consulting on behalf of Pedigree and received dog food to facilitate my reviews and a gift code to thank me for taking the time to participate. While I will be compensated for my time while working on this campaign, Jasper and I will be bringing you our honest and personal opinions on the brand and product.