It's kind of funny…we live in Michigan…the amount of time we actually get to be outside, enjoying our lawn, is heavily out-weighed by the amount of time we're stuck inside due to wet or cold weather.  And yet, we break our backs (and often our bank) to make our lawn look nice!  I'd be happy as long as the lawn had grass on it and we could walk around barefoot on it it during the summer.  But, as my husband reminds me, if we want to sell this place then we need to make it look nice.  And making it look "nice" starts with curb appeal.
So, now that the weather has finally caught up with Spring, we've been busy making our house look nice!  The last 2 years we've put in a new swing set, garden, fire pit and deck.  This year….the yard! 
Our house is placed between our neighbor, who has a really nice lawn, and an empty lot owned by a local farmer.  The empty lot is pretty much just mowed field.  Our lawn is a cross between the two — some spots are really nice and grassy, other spots would be bare dirt if sprayed weed killer.  But my girls sure do delight in picking all those dandelions!
To help improve our lawn this year we are doing a combination of things…
First, we're spreading a grub killer in the hopes of ridding our lawn of moles. Those little suckers are my nemesis!  They have our lawn all uneven with their crazy tunnels everywhere and they drive Jasper (our dog) crazy! He hears them and tries digging the up.  Damn you, moles!!!
Second, we're filling in some uneven spots with dirt and spreading grass seed in the spots of our lawn that somehow have become grassless.  Fingers crossed that it actually grows!
Third, we're fertilizing.
I am clueless when it comes to fertilizing.  What fertilizer is best? Is it safe for my kids to be around? Is it going to burn my lawn?  Clueless.  So, we're trying out Scott's Turf Builder.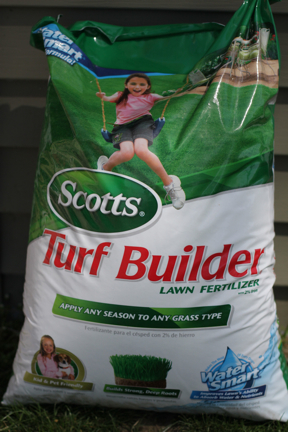 Honestly, my first inclination is that Scott's is a name that I recognize.  One point for Scott's.  Also, Scott's Turf Builder is easily spreadable with a handy-dandy spreader (a new toy for my husband).  One more point for Scotts.  Ok, two more points because the husband got to use his new toy! And it's really affordable! Three points?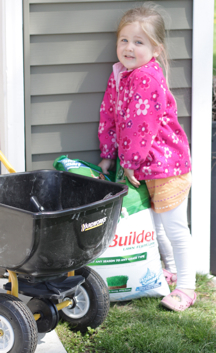 You can use it in early Spring for a little post-winter recovery, late Spring to get a little pre-summer boost, and early Fall and late Fall to make that green grass last a little longer and sustain it through the long winter months.  And, the longer you use it (year to year), the better your lawn will get.  Umm, four points?

Lastly though, and definitely the most important feature for me, Scott's Turf Builder is kid and pet friendly!  100 points for that!  With kids and a dog running around our yard, I need something that's going to be safe for them.  There is no possible way for me to keep them off the lawn when the weather is finally nice enough to be outside (unless I ship them off to grandma's for a few days….tempting) and I'm not about to try in the name of fertilizing.  Being able to fertilize the lawn AND have the kids and dog out there too?  Priceless!  I guess that means we're not keeping score any more.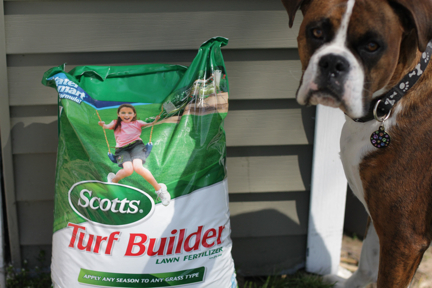 There you have it, our three step plan for a better lawn this year!  Now we just need a little Spring rain to give this lawn a boost.  Hopefully in a few weeks I'll be sharing some photos of the kids playing outside and you'll be saying, "Woh! Nice lush, green lawn!"
You can check out more Scott's lawn, garden, and landscaping products at Scotts.com or sign-up for tips, custom feeding reminders and special offers.
You should know…This post was inspired by a campaign with Scott's Turf Builder on behalf of One2One Network. I did receive complimentary product to help facilitate this review. However, all opinions stated here are my own.