It's not even officially Summer yet and I'm already loving it!  One of my goals this Summer (more on the goals in a later post) is to use our grill a ton!  Sadly we hardly used our grill the past few years.  I just wasn't comfortable using the grill and, by the time Tim would get home from work, well, it would just be so late by the time he would fire up the grill, cook whatever, and we would sit down to eat.  So it just didn't happen.
Then we sold that old grill and bought this cute little portable grill.  And I'm a rockstar with it! Ok, I've only used it once but take a look for yourself…
This week I had a hankering for some chicken shish kabobs! Mmmm!  It was off to Walmart for a little barbecue shopping!
I've seen pre-made shish kabobs at the store before but I really wanted to make my own.  I'm kind of picky about what veggies I like and I really wanted to marinate the chicken in a yummy honey teriyaki. So, let's get to the yumminess!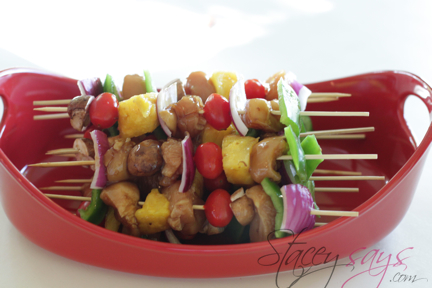 Here they are on our new grill…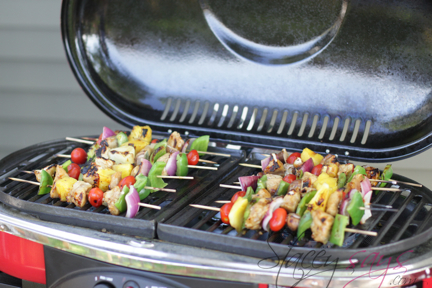 Let's get a little closer. I really wish I could add smell to this photo because they smelled SOOOO good!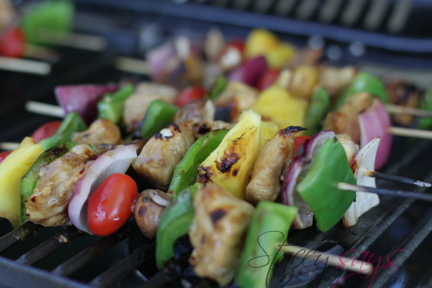 Of course the girls weren't too impressed with the thought of having veggies but they thought the skewers were pretty cool.  Drum sticks!!!  Speaking of drumsticks…
What kind of barbecuer would I be if I didn't bring home a little ice cream for dessert?  I let the girls pick out what kind of ice cream they wanted for desert while we were at Walmart.  Without a second thought, they unanimously chose the Nestle Drumstick Lil' Drums, which are so perfect for them! The ice cream is nicely contained in the cone (keeping hands less messy, unless your Zoe and like to eat the ice cream cone from the bottom up) and they are small enough for little hands and little tummies!  The perfect treat without being too much for them!!!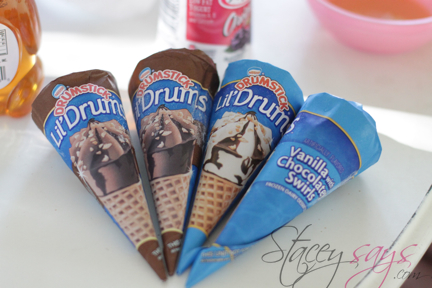 I'm more of a "ice cream in a dish" kind of a girl and would have loved some Dreyer's Chocolate Peanut Butter Cup or Triple Chocolate Peanut Butter Sundae! Or, if it were just for me, I might have gone with the full size Nestle Drumsticks.  Seriously, the Nestle Drumstick Sprinkled! ones had cherries inside the ice cream and the Nestle Drumstick Simply Dipped has mint ice cream! Oh, yes please! But, alas, the kids win.  And, well, with little faces like this, I guess it's ok.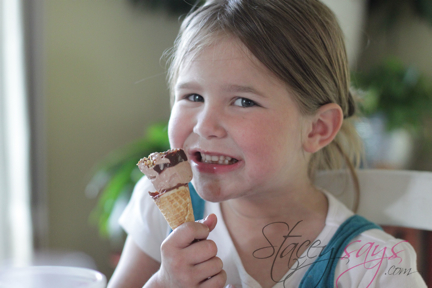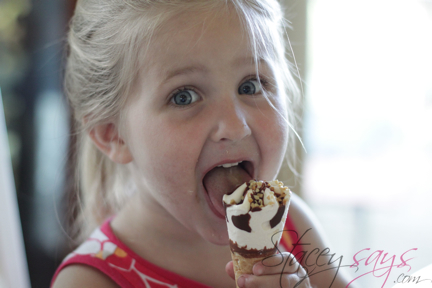 Thinking back on it now, the Lil' Drums are probably the best choice for us all around. The small portion size makes me feel less guilty about joining in on the ice cream treat with my girls while I'm trying to drop this baby weight. But, mmmm, those Simply Dipped mint cones still sound awfully good!
Now I'm definitely looking forward to more grilling this summer.  I'd love to grill most of our meals this summer.  I'm thinking baked (or would they be considered 'grilled') potatoes, corn on the cop, pizzas, and whatever else I can figure out!
I'd love to know, what are some of your favorite foods to throw on the grill? And what's your favorite summer dessert?  Ice cream? Dish or cone?
You should know…this post was inspired by a campaign with Nestlé  and Collective Bias. I was compensated for my time but all opinions stated here are my own. And my kids'. Now I must go hide the rest of the Lil' Drums before they eat them all!