Thank you to Béaba for providing me with a Bib'expresso to review free of charge. To order your own Bib'expresso or one of many Béaba products, visit www.beabausa.com.

This past weekend we took our maiden voyage in our new camper and we could not have asked for a better experience! The weather was perfect, the kids did a great job behaving during the day and sleeping well in the camper at night, and our camper itself was able to hold everything we could have needed!  Which, that itself, was no small feat!
With two small kids and a baby AND a dog…I'm careful not to "overpack" in the risk that we'll just have stuff everywhere and get overcrowded in our camper. This was no problem at all with our new camper (we might even have had room to spare).  And I was even able to bring our newest baby gadget — the Béaba Bib'expresso!
My husband laughed a little at me when I unboxed the Béaba Bib'expresso from Scandinavian Child a few weeks ago and set it up on the counter right next to my one-shot coffee maker. He would crack jokes about me needing my shot of coffee and Talon needing his shot of bottle…better hope you don't mix the two up, hahaha! But now that he's had the opportunity to really use the Bib'expresso, I'm pretty sure we are in agreement that it's the best baby camping accessory. Ever!
One of the big considerations when camping with our baby is how to prepare his bottles. First, there's the issue of making sure the water is safe to drink (so we typically use bottled water when camping) and then there's the issue of getting that water at the right temperature. With the Bib'expresso I am able to measure out exactly how much water I need for his bottle and it heats it up to the perfect temperature, reducing air bubbles and eliminating hot spots! Done. All with the push of one little button!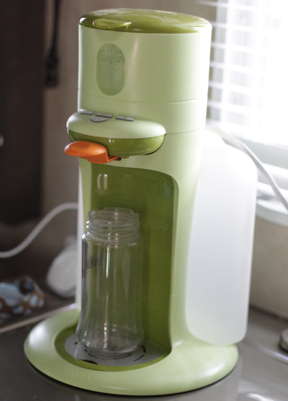 Also, because the water dispenser button is an easy "press and hold", I'm able to make his bottle with just one hand…leaving my other arm to hold his fussy butt! Umm, I mean, my oh-so-patient baby.
The Bib'expresso also easily converts to a bottle/baby food jar warmer (the top easily detaches from the base unit) making the Bib'expresso useful even past the bottle days. Speaking of moving past the bottle days, because the Bib'expresso is heating the water only, I can even use it to make warm water for my tea or hot cocoa! Awesome!
All of those features and the fact that it is lightweight makes the Béaba Bib'expresso my favorite camping accessory this season!
Ok, it also looks pretty cool sitting on my counter at home, too!
You can learn more about all the features of the Béaba Bib'expresso, including how it quick and safe it is and the bottle sterilizing feature, at beabausa.com and you can purchase your Béaba Bib'expresso on Amazon.com.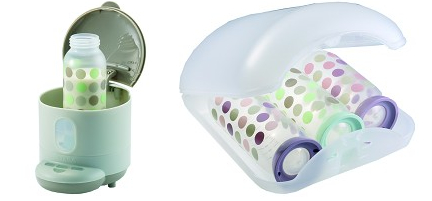 You should know…While Béaba provided me with a Bib'expresso to review, the opinions I've expressed here are solely my own and represent my honest viewpoint. Béaba, Clever Girls Collective and I promote Blog With Integrity.