Today Tim and I are celebrating our ninth wedding anniversary.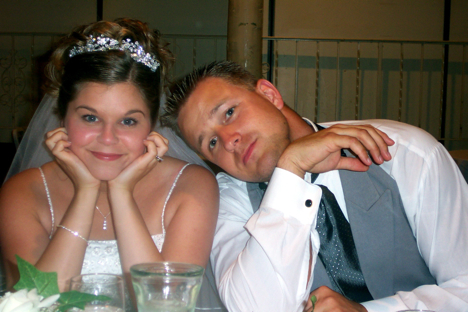 Celebrating will include all of wishing each other "happy anniversary" and a kiss as he heads out the door for work and I make the girls' their breakfast and comfort the baby who is ready for a nap.  He'll be working late so there will be no candlelit dinner or champagne toast. Just me, relaxing after a busy day with the kids, thankful to finally get all three of them in bed.
And it's ok.
Marriage feels a lot like an amusement park ride sometimes. It has it's ups and downs. You're never quite sure what might be around the next bend. At times you will be reeling in excitement and terrified during others, wanting to throw up.  Clenching on to anything within grasp during the hard parts and tossing your hands up in the air during the best parts! It's uncertain. It's amazing. It's terrifying. It's a different experience for each rider. And, regardless of how you felt during the ride, you just don't want to get off.
Let's keep riding, shall we babe?