On Tuesday night we had the privilege of attending the opening night performance of Shrek The Musical presented by Broadway Grand Rapids. It. Was. Amazing!
My girls were pretty big fans of Shrek (or "Drek" as Zoe likes to call him) to begin with so I was hoping they would enjoy seeing him live on stage, but you just never know how kids are going to react to live theater. My fears were but to rest when I saw that Abbi couldn't take her eyes off the stage throughout the entire first half!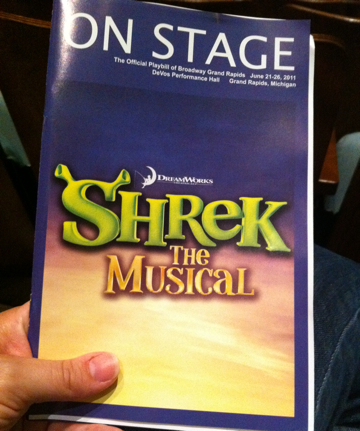 The show itself follows the first movie pretty closely. A few modifications here and there for the stage adaptation but those little changes did not distract from the story at all. As a matter of fact, it was fun to have the show start out with a little background of how Shrek ended up in the swamp and how Fiona ended up in the tower!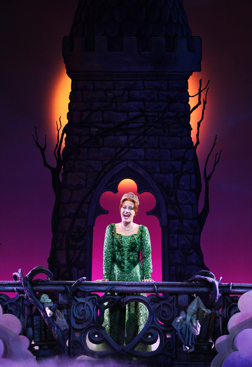 While the story was enjoyable and chalked full of Shrek-style comedy, I think my favorite part was the music. The actors did an amazing job connecting you with the story through the songs. You are quickly reminded that these actors are trained professionals when they start belting out those songs!
Of course the sets were also amazing! I loved how they were able to immerse you in Shrek's swamp one minute and have you dancing along in Duloc the next! Oh, and the dragon!!! Awesome!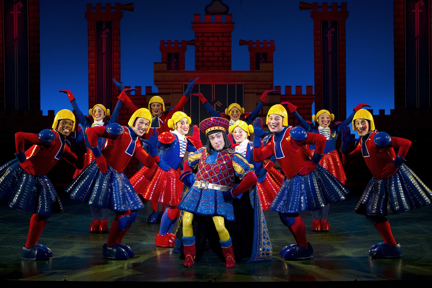 But I think my husband had it right….Lord Farquaad stole the show! It was so fun to see how a six foot man created this four foot character. He really gave it that 'fairy-tale' feel! And you'll just have to go see the show for yourself to see how he makes it work!!!
This was our first experience with Broadway Grand Rapids and were definitely left with a great impression. Besides putting on a great show, the girls were greeted with their very own Shrek ears from Broadway Grand Rapids and beautiful carnations from Crescent Floral & Gifts, an opening night sponsor, making the night just that much more special for them! I can honestly say, we will definitely be attending more Broadway Grand Rapids' shows! I have my eye on Les Miserable and the girls are looking forward to Mary Poppins!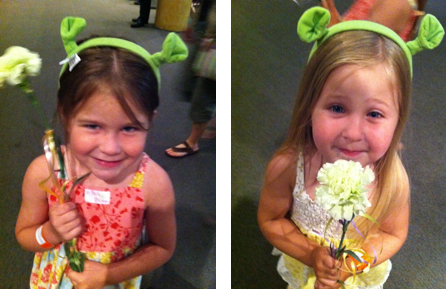 If you're interested in seeing Shrek The Musical, you still have time! There are still performances tonight, Friday night, Saturday afternoon and night, and Sunday afternoon and night. Check out BroadwayGrandRapids.com for show times and ticket availability.
You should know…I did receive complimentary tickets to the opening night performance for my family from Broadway Grand Rapids so I could bring you a personal review of the show. All opinions here are my own and are not affected by compensation. Now stop reading this and go buy your tickets!