What? The kids just got out of school, do we really need to think about signing them up for classes already??? YES!
Summer is a great time to really let your kids explore different activities to see what it is they really like to do.  Classes and camps during the Summer are shorter and often less expensive, allowing your kids to participate in a few different activities over the next few months.  They also give them the opportunity to have interaction with other kids outside of their own neighborhood and might just give mom/dad a break for a few hours during the week!
If you are really interested in signing your child up for a class or camp this Summer, start looking at them now (if you haven't already) because they tend to fill up quickly!
Arts
Ambrose — Got an artistic teen on your hands? Check out these amazing creative Workshops with Ambrose!
Bricks 4 Kidz — What kid doesn't love Legos? If you're near the Grand Rapids area, check out these camps all about Legos!
Music
Tunes4Tykes — A really fun opportunity for you and your kids (ages 0-8yrs) to explore the world around them through music and movement!  Class sizes are limited so sign up soon!
Sports
The summer is a perfect time to try out different sporting activities that you're child has never tried before.  Most places will offer more classes during the summer, keeping class size small, giving your little one more personal attention.  And it's a great way to burn off some energy!
Gymnastics — My girls LOVE gymnastics and the summer.  Here are a few local places: Flipside Gymnastics (our fav), Champion Gymnastics, Gymnastiks Unlimited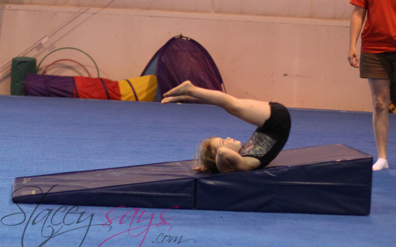 Dance — Grand Rapids Ballet, We Dance Academy (they haven't posted their Summer schedule yet), Turning Pointe School of Dance
Martial Arts — New Heights Fitness, Fabiano's Karate
Holland Rec and Zeeland Rec — They offer a ton of different opportunities for kids of all ages!
Animal & Outdor Adventures
John Ball Zoo — Kids love visiting the zoo so why not just drop them off and leave them there for a little while?  Ok, it's a little more structured than that!  John Ball Zoo, Grand Rapids, offers an array of classes and events for kids from 3 years old all the way through 9th grade!  Whether your little one is just curious about critters or has a serious passion for animals, this is a great opportunity for some hands on experience.  They even offer over-night adventures!  Check out their brochure for more info!
Binder Park Zoo — Binder Park Zoo, like John Ball Zoo, also offers an assortment of classes for those in the Battle Creek area or those wanting to drive there (love this zoo, by the way!).  Starting at hour long classes for 18month-2yr olds to their Jr. Zoo Keeper Camp (a 5 day session) for 13-17yr olds.  Seriously makes me wish I were a kid again!  I would have loved these classes!!!
Outdoor Discovery Center — This is a beautiful little nature preserve just south of Holland that also offers different opportunities for kids.  In addition to their four different Summer Camps, they also offer a Nature School program for preschoolers and Outdoor Adventure Days for the whole family.  The girls and I did the Outdoor Adventures Day last summer and loved it!
DeGraaf Nature Center — Interested in learning about bugs? Turtles? Birds? Dinosaurs? Native American Life? Then have your little one check out the classes at DeGraaf Nature Center! Classes run all summer long and are available for ages 3 – 15.
Critter Barn — If you have never been to Critter Barn in Holland, what are you waiting for? This is a great hands-on learning environment for kids of all ages.  While you can visit the farm any time to check out the animals, you can also sign up for one of their many camps.  Camps run most of the summer and are open to kids ages 3 – 16.  Abbi did the Little Farmers class last year and loved it.  This year Zoe will be doing the Little Farmers class while Abbi has graduated to the Animal Adventures! They also offer Horse Camp for 9-16yr olds!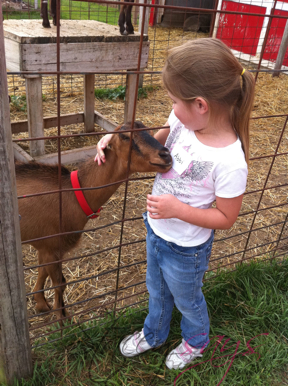 A Little Bit of Everything
Holland Area Arts Council — Offers everything from ballet to sculpture to pottery to cooking! Ages 6 – 18
Avalon School of the Arts — Music, Theater, and Dance! Ages 4 and up
Lil' Learners — They have locations in Holland, Sparta, Jenison, and Caledonia.  They offer group classes and private lessons! And they offer pretty much anything you can think of – theater, music, dance, language, art, fencing, etc!
PHEW!  That should get you started!  If you're still looking for more, check out TheBigBinder.com — they have a great calendar of events happening in the Greater Grand Rapids area and a running list of area Vacation Bible Schools for this Summer. Also, check out GRKids.com for a pretty extensive list of classes your kid can be a part of in the Greater Grand Rapids area!
Ideas for you…
While I know most of these classes are specific to West Michigan, I hope they sparked some ideas of Camps & Classes in your area! Take a look at your city's Rec League or YMCA.  Or ask your friends, neighbors, or random strangers to see what your area has to offer!
What classes or camps are your kids attending this Summer?
This post is linked up with Natural Living Moms West Michigan Link Up. Check it out!