It's Thursday. We are leaving for our weekend camping trip and I have a ton to get done. And, of course, my kids want to be big helpers, which translates into them following me around asking, "Mom, are you ready yet? Can we go yet? When can we go? How long will it take to get there? Is it time yet? Can we still watch Wheel of Fortune when we're camping?" DVD day, it is!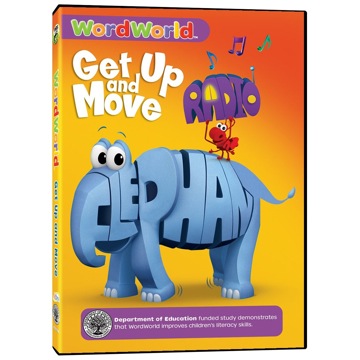 We got this DVD a while ago and, I must admit, it is one of my favorite cartoon series!
Seriously! Have you ever seen it? Each of the characters and the objects in the cartoons are made out of the letters in that word.  I know, at first thought you wouldn't really think it was all that impressive.  Until you see how they make a fly out of the letters F-L-Y.  Or train out of the letters T-R-A-I-N!  So cute!
And I really like the stories they create.  Word World: Get Up And Move includes some cute shorts about different activities like baseball, biking, skating, and a party. Each story gets the kids thinking about how to create different words, the sounds letters make, and problem solving. My girls love it!  I'm amazed at how much even our 3 year old picks up!
And my Mommy Confession….we will be hitting 'play' once the dvd comes to an end today! I could use the extra work time, my girls could use the extra rest time, and it's a cartoon I don't mind listening to in the background (unlike that whiny Caillou!).
You should know…I did receive a complimentary copy of this dvd for review purposes. All opinions are my own and are not influenced by received compensation.