I love zoos. Mostly because I just love animals and am fascinated by so many of them. And, while I'd love to observe them in their natural habitat, that's just not possible for many of these animals.  Ok, and I like having the safety of that fence or trench or plexiglass between me and them.
I had heard really great things about the Columbus Zoo and, after all, it's Jack Hannah's zoo for crying out loud! Yes, if I could switch places with someone, it would be Jack Hannah. I know, I'm a dork.  Anyhow, let's move on to those animals!
To make this trip to the zoo a little more fun for the girls, I got them each a disposable camera so they could take their very own pictures of the animals. Of course these ideas always seem to go over so much better in my mind. Isn't that how it always is? So, as I should have expected, Zoe took all 27 of her photos within the first 5 minutes. But, whatever, they thought it was fun and….yeah, I still need to get those developed. Seriously, I don't know the last time I got photos developed!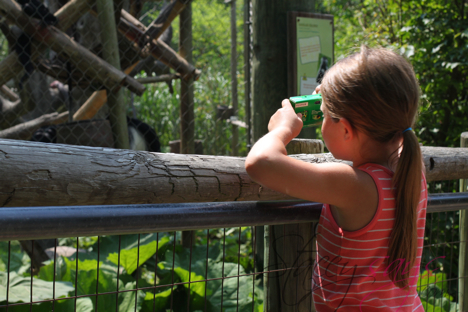 Here are a few of our favorite animals: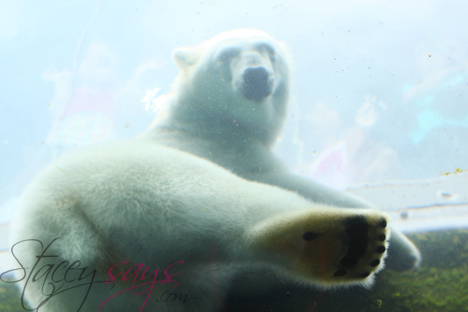 And why is it that, with all these amazing LIVE animals to check-out, my girls get more excited over the statues?
But, look how happy they are. All three of them!
All in all, the Columbus Zoo was great. They have their own iPhone app for crying out loud! DUDE! But I'd love to go back and spend more time there (we did it all in one day) and check out their water park…when the kids are older. The zoo itself has a ton of animals so you will have lots to see and all of the animals were out and visible! Yes, most of the cats were snoozing in the shade when we saw them but we could still see them!
I have a lot more photos from the zoo and will post them over on my Flickr page soon!
I will be writing a fun little "how to survive the zoo" post soon because, like most things, there are quite a few oh man, I wish I had thought about THAT moments! And I like to share those tips with you. I know, I'm pretty swell like that!
So, that was Day 2! Tomorrow, I'll take you adventuring again in the Columbus area!
But wait, are you a zoo going family? What are some of your favorite zoos?