I love animals. I find the absolutely fascinating! I often wonder why I didn't pursue a career in Veterinary Medicine, but, alas, I didn't. So I'll just day dream!
My husband laughs because he knows that our trips to the zoo are 5% for the kids and 100% for me! That's why, when given the chance to have a sneak preview of a new wildlife animal park opening in our area, umm…you bet! I'll be there!
A few weeks ago the girls and I had the opportunity to take a behind the scenes tour of Boulder Ridge Wild Animal Park, a new zoo type area opening later this month in Alto, MI.  The park is not yet open to the public so we got to see the park as it's still being shaped and created.
While I really think you just need to go to the park to experience it for yourself, here are a few of my favorite parts.
1) The park, a 15 year dream in the making, is now home to an astounding number of different exotic species of animals.  Most of them African and many of them endangered.  The park is a bit of a sanctuary for these animals to come, breed, and live with plenty of space to roam! I'm always a stickler about the space part. I hate seeing large animals live in a 10×10 cage.  They need room.  And Boulder Ridge gives them that!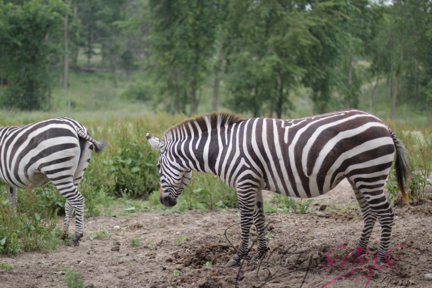 2) Boulder Ridge will cater to families, in addition to catering to the animals. You can tour the bulk of the park via an awesome wagon or take some time to learn about the reptiles at the reptile house. The best part though — they are creating a picnic area complete with a play area for the kids! That means you bring in your own lunches and enjoy a little break while the kiddos play! This is awesome because not many parks allow you to bring your own food and expect you to pay $50 for a hotdog lunch for a family of 4. Also, admission is just $8! Yay for frugal family fun!!!
3) They are trying to be as self-sustaining as possible! It's as simple as growing their own hay for the hoofed animals and extends as they try to recycle as much as possible.  In the future gift shop you will find blown out Ostrich eggs that didn't hatch and quills from their African porcupines. But the part that my kids will always remember is how they recycle broken eggs!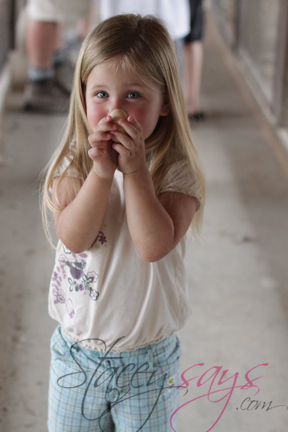 While looking at some of the birds, the kids were given the opportunity to help collect eggs (mind you, these are not your typical chickens). Zoe was so excited to carry one of the eggs, until my little accident prone child dropped her egg. Tears immediately! But then Rick, our tour guide, came to the rescue and showed her how she actually helped him. They scooped up the cracked egg and headed over to the reptile house where Zoe got to give one of the lizards an afternoon snack. And such is the circle of life!
4) And last, but probably our most favorite party of Boulder Ridge, was Rick. Rick the Reptile Guy. He. Was. Awesome! A big kid stuck in a man's body, he is perfect for the role of park tour guide and animal educator. He had the kids attention from the very first minute where he shared how one of the cats had just attacked him the other day and then laughed about it. He is hilarious! I hope you get to meet him when you visit the park!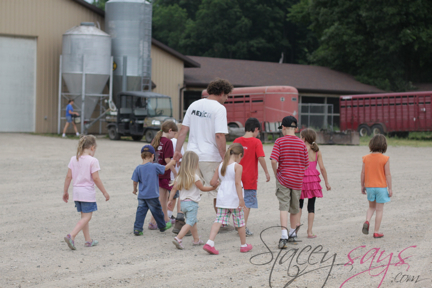 Boulder Ridge will be opening at the end of July and we will definitely be making a trip or two or ten back there! If you're interested in learning more about the park or it's grand opening, check out their Facebook page!
You can check out more of our adventure over on Flickr. Or check out what the other fabulous bloggers who were with us thought of the park.