Congrats Katie! You are the winner of The Help giveaway!
Earlier this week I had the opportunity to attend an early viewing of The Help, one of the most anticipated releases of the Summer. And…
It. Was. Breathtaking!
I have not yet read the book. Honestly, I hardly have time even to watch a 2 hour movie, let alone read an entire book. So, I can't tell you how the movie compares to the book. If one is better than the other. Or if the movie even follows the same general outline as the book. But I can tell you that the movie was great! 
If you have no idea what movie/book I am talking about…shame on you! And now go watch The Help trailer!
It was exactly what I needed this week. A good movie to share with a great friend (Jodimichelle). And, while I'm not going to give you any spoilers or details about the film, I will say that you will definitely want to grab your best girl friends and a box of tissues and head to the theater on August 10!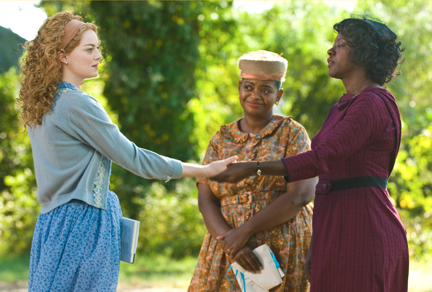 I will say that the cast does not disappoint! I love Emma Stone and about died when I later realized that it also starred Bryce Dallas Howard as Hilly. (Bryce is also known for her work in The Village, Lady in the Water, and Eclipse. Oh and her role as Ron Howard's real life daughter! This girl is amazing at changing her 'look' for each film.) Viola Davis (Aibileen) and Octavia Spencer (Minny) are also amazing. Funny. Endearing. Strong. Fabulous!
The Giveaway!
So here is a little The Help prize pack that I'm giving away to one of you fabulous readers! You are fabulous, after all. AND, to sweeten the deal, because I do love you, I'm going to throw in a $20 gift card. The winner will have the choice between a $20 Amazon gift card so they can buy the book OR a $20 Fandango gift card to see the movie!
To Enter… Simply tell me do you prefer to read the book first and then watch the movie OR movie first and then read the book if the movie was good?
You can earn extra entries by doing any or all of the following:
Subscribe to Stacey says… or "join this site" with Google Friend Connect (on the sidebar)
Follow @Stacey_Says on Twitter
"Like" StaceySays.com on Facebook
"Like" The Help on Facebook (let them know you're visiting from StaceySays.com)
Tweet and/or Post on Facebook about this contest. Be sure to leave me a link to your updates or tweets in a comment below. (You can do this once daily, each)
Leave me a new comment each time you do one of the "extra entries"!
Fine Print Details…
The winner will be randomly selected from the comments posted by Friday, August 5. All entries will be verified and must include an email address where I can contact you if you should win. T-shirt size preference will try to be met but cannot be guaranteed. You can read more about Giveaway Policies here.
You should know…I did receive complimentary tickets for me and a friend to attend an early showing of The Help from DreamWorks Pictures as a part of this campaign. DreamWorks is also providing the prizing for this giveaway but I am providing the gift card. All opinions stated here are my own.
*Images courtesy of Dreamworks Pictures