In a span of one year's time, I personally know of eleven babies being born, including my own. That seems like a lot of babies! I know it's just the season of life I'm in but, phew!, I know a bunch of fertile people!
Being on our third baby, I've come to realize what I like and don't like in baby products, especially baby toys. I'll confess, I'm pretty picky when it comes to baby toys! Our house is already so noisy (three kids and a dog will do that in a small ranch style house) so the last thing I need is extra noise being made by baby toys! 
My husband is also pretty 'toy' picky because he likes "quality" products. Ok, so quality AND less noise? It's not as easy it sounds!
One company that does a great job of meeting both our needs and creating a product that is great for any gender baby (really helpful when you're looking at saving these toys for the next baby) is Infantino.
We recently checked out some of their toys from their Comforting Play Collection and, I must say, they are pretty awesome. Aside from the cute little characters built into the toys (love those big eyes and the colors), they have done some creative things like incorporate soothing smells, textures, and filings.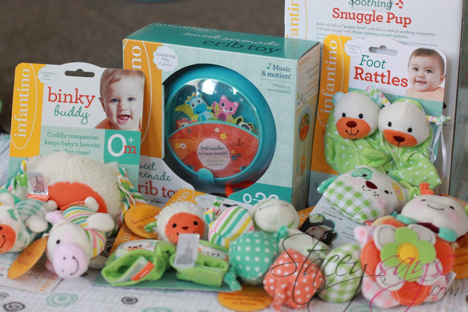 I love this little Sweet Bee Scented Pal because it has a lovely little lavender scent that is supposed to soothe baby. And, since Talon really dislikes being in his carseat for more than 5 minutes, I'll gladly try it. It's great that it clips right on to his carseat so he can play with it, watch it, and be soothed!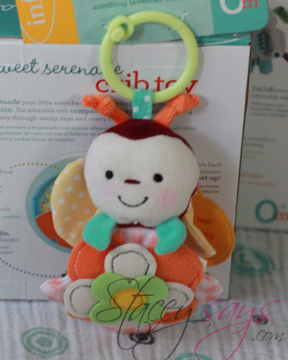 Since little man is starting the whole teething thing (seriously, this stage is so freaking long), he's loving munching on the All Around 1-2-3 Teether. The three little slide outs give him a variety of surfaces to chew on and makes for convenient holding handles. I like that it easily packs up into a smaller size and can get slipped right inside the diaper bag.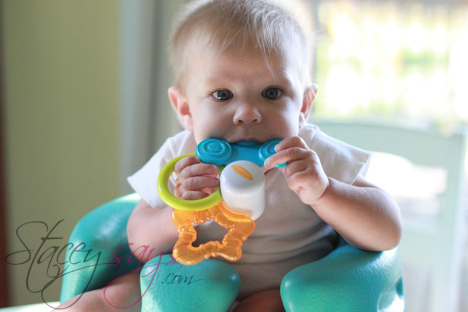 And then there is the Snuggle Pup. I'm a bit smitten with this guy! It's so cute and plays a variety of peaceful music. Talon loves lying on the floor snuggling with it, listening to the music and chewing on his ears. The best part….the music box feature is removable! If you've ever had a baby you know how much baby likes to drool and spit up on toys so you're rejoicing at this easy-to-clean feature! With the music box removed, washing the Snuggle Pup is no problem. Also, it makes it so that the toy can grow with the baby. Baby may not want the music in a few months, so pop out the box and let him just have his snuggly.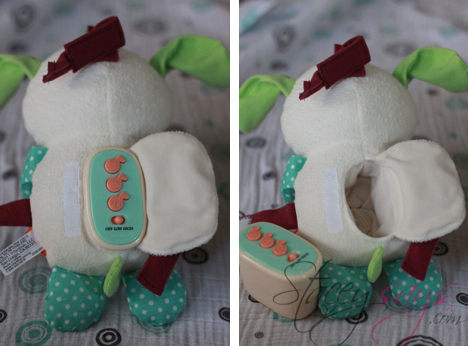 Oh, I'm not done! The music box also has an off button (YAY!) and a low and high sound choice. You can let baby just snuggle with it or strap it on to the crib or carseat for soothing bed/travel time.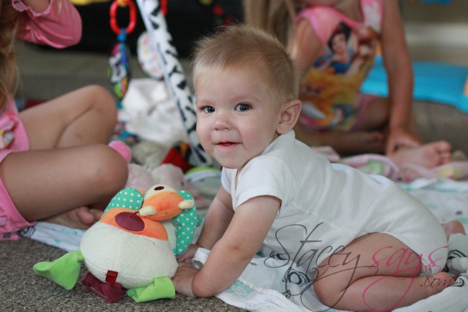 With all the soothing, lovely toys Infantino has to offer, I'm excited to be including many of these items in all those baby gifts this year! And, incase you forgot, I've got a lot of gifts to give this year. Lots of squishy babies!!!!
What are your favorite "go-to" baby toys when purchasing for your own baby or for a gift? Do you really take into consideration the sanity of the parent or do you buy the loudest, messiest toys possible? I totally have friends who purposefully buy loud toys for us. Grr!
You should know…I am a participant in a Mom Central Consulting campaign for Infantino and have received various Infantino products as part of my participation. All opinions stated here are my own (and Talon's).