When we found out that Talon was going to be a boy, after the shock of the ultrasound results wore off, we began dreaming of all the 'boy' toys that would fill our house. The house that had been overrun by 'pink' and princesses, glitter and fairies.
In all fairness, my girls do like to play in the dirt, ride four wheelers, and catch toads.  They just do all that while wearing their princess crowns.
So, yes, trucks and footballs and trains and BLUE are a welcome addition!
However, I've learned (rather quickly) that if Talon wants any chance of being able to play with these toys, then I better hid them!
Recently we received this very fun Thomas the Train Busy Day at the Quarry set from MEGA Bloks. The perfect addition to our growing Mega Bloks collection!
The set allows kids to build a mining world (up to 4 feet long) complete with train tracks, crane, coal, coal chute, and your very own Thomas and Mavis! And the crane actually works! AND the case that the set comes in doubles as building pieces!  Oh, the hours of choo-choo fun!!!
Except, well, the girls found Thomas and his quarry excitement.
After resigning to the fact that they were not giving up the new found toy without a fight, I showed them how cool the set was and how Thomas and Mavis could cruise around the tracks, carrying loads of coal. They agreed, super fun mom!
But then I found this the other day…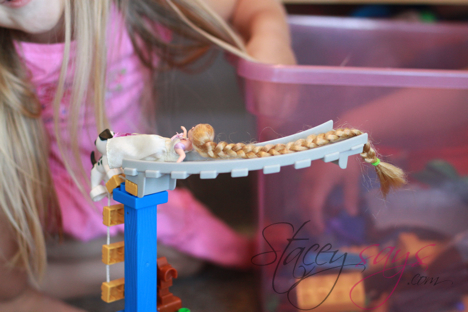 Train tracks have been repurposed as Rapunzel's tower.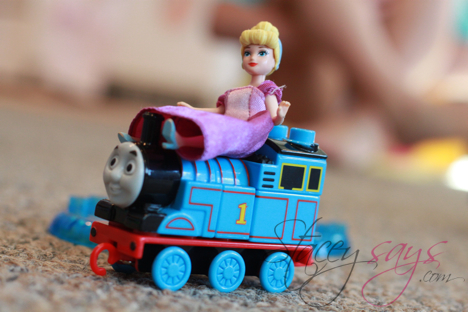 And Thomas is now playing chauffeur to Cinderella. Au revoir, pumpkin carriage!
Despite the new found uses of  Thomas the Train Busy Day at the Quarry, the set itself is so fun! And I'm excited to add more Thomas & Friends MEGA Bloks sets to our collection…when Talon is a little older.

If your kids love MEGA Bloks as much as mine do, then be sure to check out the Mega Bloks Family Club where you can receive coupons, as well as offers, contests, and great first hand reviews from moms!
I'd love to know, did you have to hide toys from the older siblings to ensure the younger sibling the chance to actually play with them?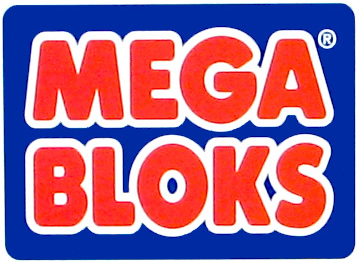 You should know…This post was inspired by a compensated campaign with MEGA Bloks and Child's Play Communications. All opinions stated here are my own and are not influenced by compensation or complimentary products.