I knew that once the little man figured out how to make his arms/hands and legs/feet work together, there would be no stopping him. And, for the past few weeks, that's exactly what has happened.
He's figured out how to get up on all fours and rock back and forth, launching himself forward at times. But mostly he's masters the military crawl.  I'm sure soon he'll realize that if he keeps his belly off the ground that he'll be able to move a lot faster and will less effort. But I'm not going to tell him that. And neither will you! Seriously. Zip it! 
To keep my little cruiser entertained (and distracted from attacking the dog) these days, he's been enjoying the company of the VTech Catch Me Kitty!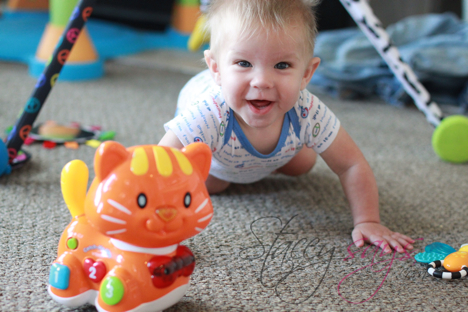 With a sensor located in it's bow tie (front) and another located near it's tail, there's no sneaking up on this kitty! Once it senses your little one is near, it is off scooting around the floor, encouraging him to chase after it. Think Roomba but less cleaning and more cuteness and catchy little tunes!
Talon just thinks the Catch Me Kitty is a riot. He squeals every time the kitty zooms past him and then scoots along behind it. If your little one is lucky enough to catch the Kittty, he will have loads of fun (and learning) pushing the shape buttons located on the Kitty. This makes the Catch Me Kitty a great toy that will grow with your baby. And reiterates what VTech Toys is all about — learning and fun!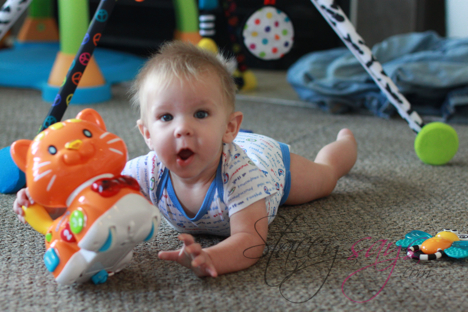 Not only is the Catch Me Kitty great entertainment for Talon, but his older sisters have taken a liking to it too! Amazes me that, despite the numerous toys these girls have, they think a baby toy is "AWESOME!" Jasper though (the dog), he's not so sure how awesome it is. He's very intrigued by the Catch Me Kitty and will bounce around it as it zooms around the house but is less than thrilled when the Kitty scoots underneath his long legs. I happen to think it is Hi-Larious! And it provides me with countless entertainment throughout the day. Priceless in my book!
But speaking of price, the Catch Me Kitty retails for $19.99 and the manufacture suggested age for this toy is 12-18months. My personal thought…Talon is just 6 months and I think it's a great toy for him. However, I do keep an eye on him while playing with it to make sure he doesn't pick it up because he's not quite strong enough to hold on to it and I don't want it to bump him. Just like with any toy, you need to use your parental discretion to decide whether a toy is appropriate for your child.
The Giveaway!
Do you have a little mover in your house? Or one on the way? Or think this would make a great gift for someone? Awesome! Because I have a VTech Catch Me Kitty up for grabs!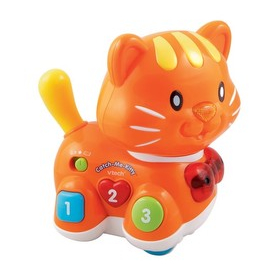 To Enter… Simply tell me at what age did your child(ren) start to crawl? Or who would you like to give the Catch Me Kitty? 
You can earn extra entries by doing any or all of the following:
Subscribe to Stacey says… or "join this site" with Google Friend Connect (on the sidebar)
Follow @Stacey_Says on Twitter
"Like" StaceySays.com on Facebook
"Like" VTech Toys on Facebook
Follow @VTechToys on Twitter
Tweet and/or Post on Facebook about this contest. Be sure to leave me a link to your updates or tweets in a comment below. (You can do this once daily, each) — "I want to win a Catch Me Kitty from @VTechToys and @Stacey_Says!  http://bit.ly/CatchMeKitty"
Leave me a new comment each time you do one of the "extra entries"!
Fine Print Details…
The winner will be randomly selected from the comments posted by Thursday, September 1. All entries will be verified and must include an email address where I can contact you if you should win. You can read more about Giveaway Policies here.
You should know…I am working with VTech Toys as a social media consultant (The VTech Infant Mom) and have received complimentary products to enable me to bring you this review. All opinion stated here and my opinions stated as the VTech Infant Mom on the VTech Facebook and Twitter page are my own. VTech is providing the prizing for this giveaway.