Being a mom who runs her business from home (hint: my business is writing and consulting), I'm constantly looking for ways to streamline the business side of life in an effort to balance work and family. Like most novice jugglers, I don't always do such a great job keeping everything running smoothly and a ball will drop here or there.  But it's a constant learning process.  And here are the tools I've learned to use along the way:
I love Google Docs. For so many reasons! I love the ease of being able to store Word Documents, spreadsheets, and presentations online instead of on my computer. It frees up space on my hard drive and allows me to access the docs from anywhere or any computer.  And you can create forms, embed them on your site, and have all the data stored in just one place! Stream lined!
The best part about Google Docs, though, is the ability to collaborate! You can easily share your docs or spreadsheets with others. Ideal if you are working with a partner on a project! Eliminates the countless emails clogging up your inbox as you send updated version after updated version of documents.  All the changes you make on a doc in Google Docs is instantaneous and your collaborators can see those changes!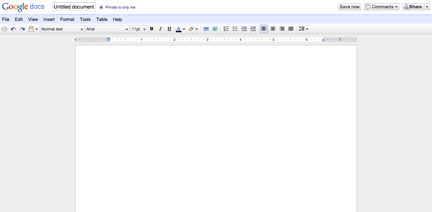 Again, collaboration!  Yes, it works for keeping your life scheduled but it goes beyond you. You can share those calendars or events so everyone can be on the same page.  Making scheduling meetings or family events so much more convenient!
I've had it so many times where I've needed to send large files to people but how do you exactly do that when those files are too large for email? An easy solution is YouSendIt.com. Sign up for a free account and start sending files! You can upgrade if you have a decent amount of files to send regularly but I've found the free version to work just fine. Simply upload the file and it will email a link to your recipient, allowing them to download the file for a certain amount of time!
Contracts have seem to become an increasing part of business, or so I've noticed. Whether I'm receiving the contract or sending it. The catch is when you have to get those contracts signed. Ugh! I hate the whole printing, signing, scanning and then emailing the contract back. Way too many steps when you have about 10 minutes before the kids wake up from naps! EchoSign allows you to easily upload (or use one of theirs) contracts, add signature spots, and email it out. Once they've e-signed the contract, it will be sent back to you, where you can sign it or file it away.  Again, they have a free version (limited amount of contracts per month) or upgraded pay versions.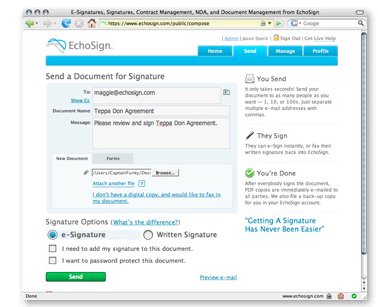 I'm always amazed when people ask me to fax them things or want to fax me something. Really? People still use faxes? Apparently so.
Now, I don't have a landline phone in my house, let alone a fax machine so we had to be creative with this issue. Thankfully we found CallWave. For $16.95 per month, you can easily send and receive faxes via email. Perfect if you are doing a good number of faxes each month. If not, then you can always check out the services at places like Kinkos, Office Max, FedEx, or The UPS Store. Which brings me to…
Print/Fax Remotely
Thankfully I have a lovely printer here in my house that I can quickly print off a document or something but, when I need to print a higher volume of documents, I don't like to use my own printer. That printer ink can be pretty expensive! So, I print off one really great quality copy or pop my document onto a USB drive, and head down to The UPS Store. I get to use their printer/copier and it hardly costs me a thing. You can also check out the services at FedEx, Kinkos, Office Max, Staples, or any other office supply store. You can also get your documents bound (think presentations and handouts). Many also offer faxing services.
Conference Calls
As much as I don't like talking on the phone, I've come across the need to do conference calls quite often. It's just a part of doing businesses.  I don't have a specific program that I'm in love with (I've tried a few different ones) but there are a number of Conference Call Services out there. Take a look around and see which ones are going to work best for you. Of course, there is always Skype and iChat!
We've been using Freshbooks for a few years now to do all of our invoicing for one of our businesses. And it works swimmingly! You can create and send invoices online, keep track of your expenditures, run account reports, and even allow people to pay your invoices through PayPal. So nice to have all those invoices and information in just one place! This is such a GREAT solution for those who are looking for ways to send professional looking invoices!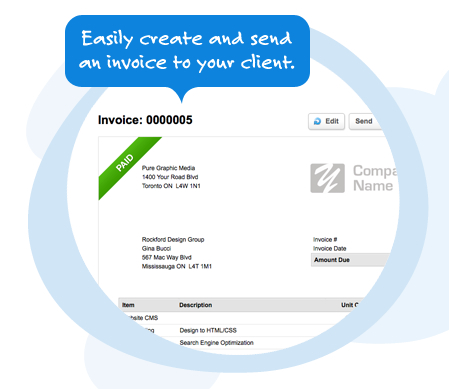 Speaking of finances…Mint.com does a fabulous job of keeping all that financial stuff organized for you. You know, bank balances, credit card balances and payment stuff. You can even set up reminders and "watches" to monitor your spending habits. Ok, confession time, I hate financial stuff. Can you tell? I tend to use stuff a lot when talking about it. But, between Freshbooks and Mint.com, I do feel like our financial stuff information is so much more organized!
All that online talk and now I'm going to bust out my non-online, non-techy tool.
I got this lovely little book while at the Brands and Bloggers Summit earlier this Summer. Confession (yes, another one): I love writing stuff down! There is just something about seeing those To Do lists and physically crossing things off. It brings me peace to write things down on a calendar, see that calendar laid out before me, cross the days off. Yes, I do all of that stuff digitally on my phone and computer, but I love me a good planner! And this planner is perfect!  I can pencil out my posting schedule, write out my to do's, plan out the kids' school calendar. Peace.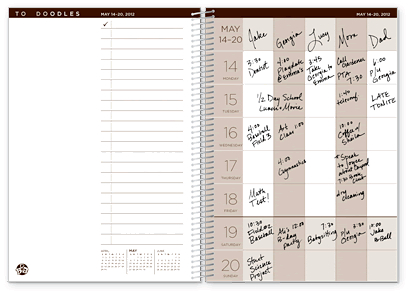 So, those are the online (and one offline) tools that I use to help streamline my work life amongst the chaos of three kids.
Coming soon…a tour of my "home office" and the physical tools I use to keep my business/home life in order!
What online (or offline) tools do you use to keep yourself/business streamlined?
This post is linked up at Oh Amanda's Top Ten Tuesday!