The temperatures across the country have been CA-RAZY! this summer!  Don't get me wrong, I love the warm summer weather but 90+ degrees with high humidity is just wrong. Especially when you live in the northern part of the country. Geesh!
Thankfully, on those uber-hot days, we can always go cool down by the water. That's one of the beauties of living in West Michigan — plenty of water and beaches to go around. But, when you have three little ones (one being an infant), hitting the crowded beaches isn't always your idea of fun.
Here are a few 'beach-day' water fun alternatives:
Fountains & Splash Pads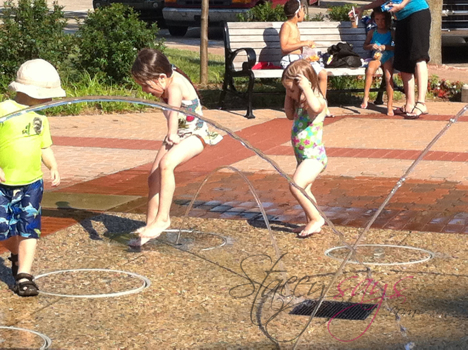 We love heading downtown to the fountains to do a little splashing and playing. The best part is that most splash pads/fountains are free! You can check out these in the West Michigan area:
Holland:
Grand Rapids:
Aberdeed Park (Eastern at Evelyn NE)
Alger Middle School (921 Alger SE)
Heartside Park (301 Ionia NW)
Mary Waters Park (1042 Lafayette NE)
Mulick Park (1761 Rosewood SE)
Wyoming:
Lamar Park (2561 Porter SW)
Southlawn Park (4125 Jefferson SW)
There is also Millennium Park, which has an admission fee of $4 for adults (16-62) and $2 for kids (3-15).
Pools
If you don't have your own pool or have a friend who's pool you can crash, then check out the community pools around town.  In Holland you can visit the Bouws Pool (365 Fairbanks Ave), the Holland Aquatic Center, or become a member of an athletic club like MVP and use their pool.
Canoe & Kayak Rental
If you'd rather do something other than splash around or swim, then check out the different canoe and kayak rentals in the area. It's a great way to cool off on the water and get some exercise!
So, slip on that swimsuit, lather up the sunscreen, and cool off in the water! And, all else fails, brave the beaches for a few hours!