I've never been a huge soda drinker. Yes, I enjoy it. I enjoy a nice cold Coke with my pizza and some Dr. Pepper here and there. But, for some reason, since having the baby, I have been craving soda. Drinking it like it's going out of style. And it's not good. I mean, it tastes good, but it's just not a good situation!
Honestly, how do I expect to drop any of this baby weight when I'm consuming empty calories like crazy? And I'm finding myself choosing soda over water most of the time. Yikes! This is not a good pattern I've gotten myself into. 
The problem is that I really like the carbonation of the soda. Ok, the flavor is pretty good too. Funny enough, it really has nothing to do with the caffeine. Despite the fact that I don't get a solid night's sleep most nights, I don't really need the caffeine. But I find myself needing the carbonation. Something regular water just doesn't give me.
So, after reading about Clear American Sparkling Flavored Water on Collective Bias (#CBias), I thought I would give it a shot. Maybe that would be a good transition from all of the Coke, Dr. Pepper, and Wild Cherry Pepsi back to water. You can read about my shopping trip to Walmart over on ThisMoment.
I've never really tried Clear American drinks before so I was interested at the variety of flavors Clear American had to offer. I mean, really, Pineapple Coconut? Honey Dew Melon? Umm, I'm more of a traditional Strawberry or Cherry or Grape kind of a girl. So, I picked up some of the Strawberry flavor and decided to try the Golden Peach, as well.
I can honestly say that I really liked the flavor. And the combination of flavor and carbonation was perfect. But would it be enough to curb my soda cravings?
I'm not sure. I've only been trying them for a few days but so far, I think I've found a good solution. Plus, the way that the Clear American compares to my traditional sodas is just crazy!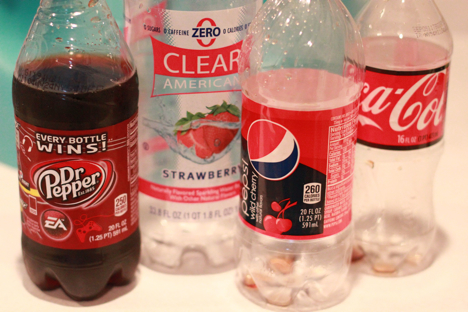 And here's how they compare:
| | | |
| --- | --- | --- |
| | Calories per ounce | Sugar per ounce |
| Dr. Pepper | 12.5 | 3.2 |
| Coke | 11.875 | 3.25 |
| Wild Cherry Pepsi | 13 | 3.5 |
| Clear American Strawberry Sparkling Water | 0 | 0 |
I like the refreshing taste of the Clear American and the carbonation makes me feel like I'm not missing my soda. And, since the caffeine wasn't a factor for me, it doesn't bother me that the Clear American is caffeine free. Actually, I think that's an added bonus because I'm ridding my body of that un-needed, unwanted caffeine. I love the ZERO calories, ZERO sodium, and ZERO sugars. I think it's exactly what I needed!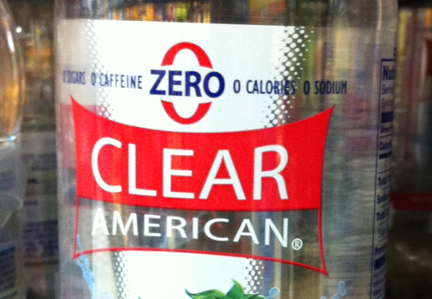 I did let me daughters try the Clear American (they have never had soda before) because they were so intrigued that I was drinking "strawberry water" and they were not fans. They thought it was sour. But, again, they don't drink soda and I'm ok with them not starting now, in any way, shape, or fashion.
So, in an effort to wean off of the soda and hopefully shed a few unwanted pounds in the process, I'm going to continue to give Clear American (@Clear_American) drinks a shot! And for only $0.68 (plus deposit) for a 1 Liter bottle? How could I not?
Are you a soda drinker? Have you ever thought of switching up your drink of choice? If you did switch from soda to a non-soda option, did you notice a difference in your health or overall feel? That's what I'm hoping for in this switch!
You should know…This post was inspired by a compensated shop as part of a social shopper insights study for Collective Bias, which is a vendor for Cott Beverages Inc., the manufacturer of Clear American® brand beverages. All opinions stated above are my own.