I am not a gardner. But I have a garden. And every year that garden is  total crap shoot!
I had high hopes of being this expert gardener. We used our old deck boards to build a garden box in the back corner of the yard, the only spot that got sun. Had it filled with dirt. Then, for the past three springs, I've tried to plant things. Tried being the key word there. The problem is that, despite my best intentions, the garden gets sorely neglected. I weed it once very few weeks and water it…umm…well…occasionally. Actually, I think my husband does most of the watering.
And yet, somehow, I manage to grow things every year. It's not an impressive haul but, since I'm pretty much the only one eating the vegetables, it's enough.
The first year we had an abundance of zucchini (most of which ended up being frozen for later) and tomatoes.  Last year our pumpkins overtook that whole corner of the back yard (including the garden). This year I decided to plant what I figured we'd use.
Tomatoes
I planted a starter plant (purchased from the store) and some vine plants from seed. My starter plant is a bit out of control but finally getting some tomatoes on it.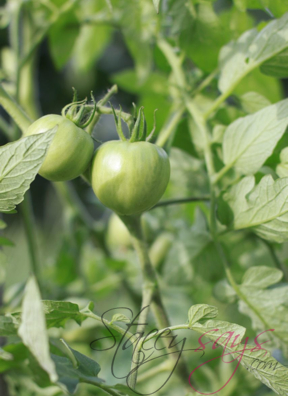 Green Beans
I love fresh green beans so I ended up planting almost two rows! Although, I only ended up with two bean-producing plants. Foiled again!
Strawberries
The girls really wanted to "help" with the garden this year so I let them pick out two kinds of plants. They chose strawberries and raspberry (I think. I can't remember what exactly the picked and is just a stick in the garden at this point.). I didn't expect much to come of them but we've actually been able to pick a few ripe red strawberries so far!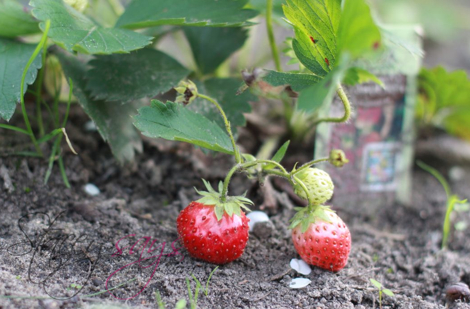 Lettuce
Out of an entire row of seeds, I've got two good plants. Perfect amount for my sandwiches and tacos!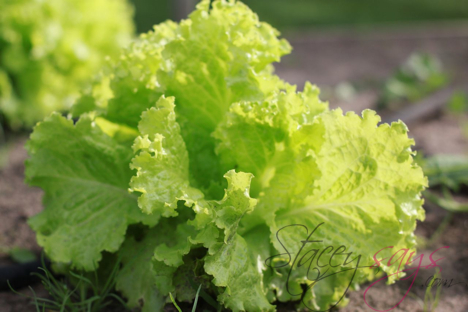 Carrots
For the husband. We tried growing them last year and ended up with one. This year I have a nice row but we'll see if they survive the bunnies!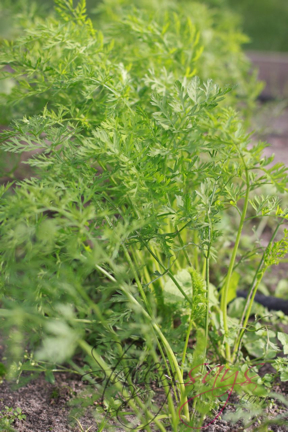 Cucumber
My one cucumber plant (despite planting an entire row of seeds). I think I might have had another plant but mistook it for a weed when it was small. So, I've got one. But that one plant actually has cucumbers on it!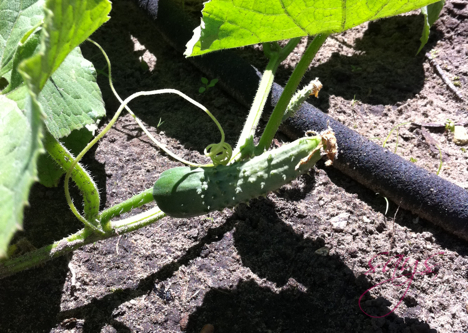 Pumpkins
These little beasts grow quickly and take over the entire area surrounding the garden even faster! Last year I had to keep moving the fines because they were creeping into the farmer's corn field behind us. If I were ever to film a horror movie, it would be about pumpkins! But the girls love them! I'm hoping we get a few big pumpkins again this year but, when we put them out on the porch at Halloween time, I'm wrapping chains around them!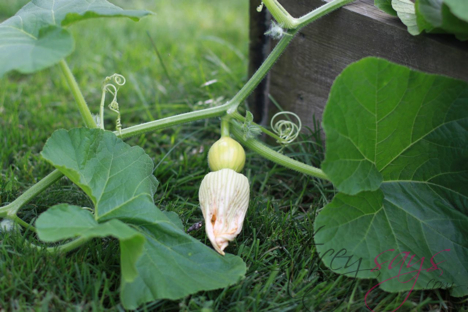 And that's it. My garden. I use no special techniques. No family secrets or special liquid mixtures to make it grow. I just till the soil, throw some seeds in rows (often times forgetting what I planted where), water it occasionally, and pick the weeks when I see more weeds than veggie/fruit plants.
All of this made me realize one thing, if something happened and we all had to live off the land, my family would be screwed. And we would be living off twinkles and spam. That stuff lasts forever!
Are you a gardener? Or want to be a gardener? I'd love to hear what you've got in your garden this year and if you're an 'accidental gardener' (like me) or if you are a gardening extraordinaire. And, if you are the later, I'm totally coming to live with you when that whole living off the land thing happens!