As sad as I am to see Summer end, let's just face it…Fall is AWESOME!
Cooler weather. Trees decorated in amazing reds, oranges, and yellows. Apple crisp. And Halloween! Oh yes, Halloween!
Halloween is one of my favorite holidays, coming in second to Christmas. I have a lot of good childhood memories around Halloween. Maybe that's why I'm so fond of it.
Growing-up we would carve pumpkins out in our garage and roast the seeds. We would always dress-up in costumes for school and then dress-up again at night to go trick-or-treating. When we got home, we would unload our loot on the living room floor, trade candy with each other (your tootsie roll for my super double bubble gum), and watch the ultimate Halloween classic — It's the Great Pumpkin, Charlie Brown.
Our costumes were never anything spectacular. From what I remember, they were mostly thrown together from things we had around the house. A hobo, witch, ghost (complete with the chains from my mom's living room lamps), rockstar, princess.  Always simple. Almost always homemade.
Now, with kids of my own, I'd love to do the homemade stuff. Create something completely awesome and unique. But, alas, my girls love the Disney Princesses and can't imagine being anything other than that! So, we opt for 'store bought'. And I'm 100% ok with that. After all, I'm a huge procrastinator and shopping for a costume last minute is always easier than making one!
This year I was asked to take a look at the costumes on Kmart.com/halloween.  Well, you can imagine how excited my girls were when they immediately saw their favorite princesses — Belle & Rapunzel! And, using the Kmart.com Halloween Costume Finder made it so easy to find exactly what we were looking for!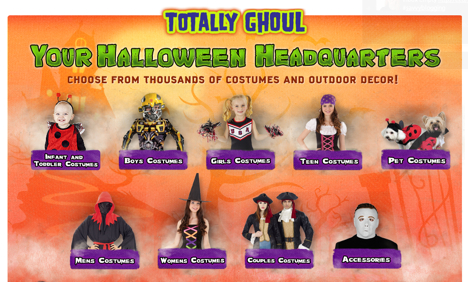 "Oh Mom! I just have to be Rapunzel! Oh PLEASE!!!" — Abbi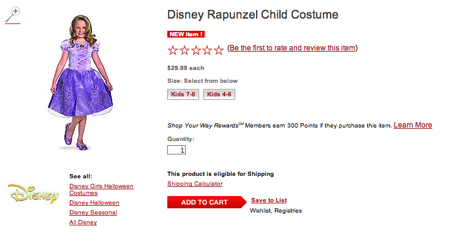 "Mommy, Bell is sooo beautiful! Can I please have that beautiful Belle dress?" — Zoe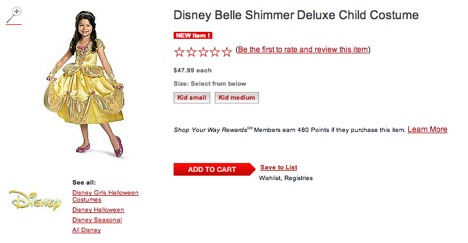 I'm kind of a push-over when it comes to this. I mean, they are pretty cute costumes and I know they will get plenty of wear out of them as they will likely use them daily for dress-up and tea parties. But "wear" means we need something that is going to last for a while, something with quality. And I've always been happy with the quality of Kmart! So yes, princesses it is again this year.
But, hold the phone! I have a boy in the house this year! That means boy costumes.  Cute, adorable, baby boy costumes! And I was delighted at what I found on Kmart.com's costume finder!  Everything from the traditional little pumpkin to latest character craze (Smurfs) to the squishiest baby animals!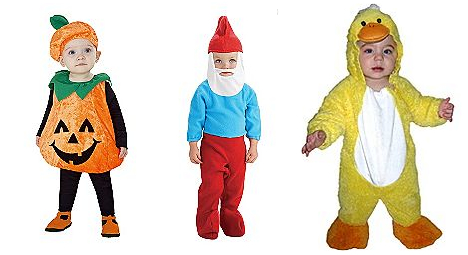 It was a hard choice but I finally settled on a costume for Talon and cannot wait to put him in it! However, you'll have to wait! I'm not going to reveal Talon's costume until Halloween!  But trust me when I say he is going to be beyond cute!
Of course, I just couldn't help but peruse the Halloween decorations while on Kmart.com. I kind of have this dream that one day I'll throw this amazing Halloween party, complete with amazing decorations, treats, games, and a little haunted house. Seriously, doesn't that sound like a riot?
I loved the selection at on #KmartHalloween and was super pumped when I found some new faces for our pumpkins this year! Yes, I completely cop-out and we do not carve pumpkins. We use these fun little push in face pieces and create pumpkin witches, pirates and vampires. But look how awesome these are!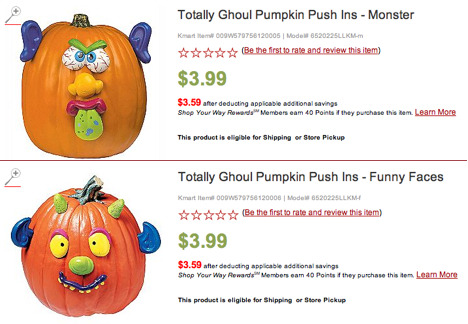 Of course my girls wanted to buy pretty much every decoration that they saw! Kmart.com made the options way too appealing (a great variety of 'fun' and 'spooky'). Can we just add that one to the cart too mom?
Now I am thoroughly excited for Halloween! After all, we only have 8 more weeks until the trick-or-treating festivities begin! That means you only have roughly 56 days to head to Kmart.com to get your Halloween shopping done and take advantage of their online deal of up to 15% off and Free Shipping on Costumes over $39.99!
I'd love to know…What are your Halloween traditions? Do you carve pumpkins? Make or buy a special costume? Throw a huge Halloween party (which will make me ooze with jealousy)? 
Oh! And for more about my experiences shopping the Halloween selection at KMart.com, check out my story on Intersect.com! WARNING: I can't be held responsible for all the shopping you'll do

You should know…This shop has been compensated as part of a social shopper insights study for Collective Bias. All opinions, love of Halloween, and overuse of exclamation points are my own.