Let's have a show of hands…Who wanted to runaway with the circus when they were little? Who wants to still runaway with the circus?
I've always been enamored by the circus. The people flying through the air, standing on the back of a horse as it gallops around the ring, the strength, the agility, the excitement. There truly is no place like the circus. And, when it comes to the circus, no one does it quite like Ringling Bros. and Barnum & Bailey!
This year Ringling Bros. and Barnum & Bailey are presenting BARNUM 200!  This amazing birthday bash truly is The Greatest Show On Earth as it features 130 performers from around the world. You will witness trapeze artists doing death defying tricks, tumblers, contortionists, strongmen (and women). Elephants, horses, tigers and even a Watusi (I'll let you Google that one)!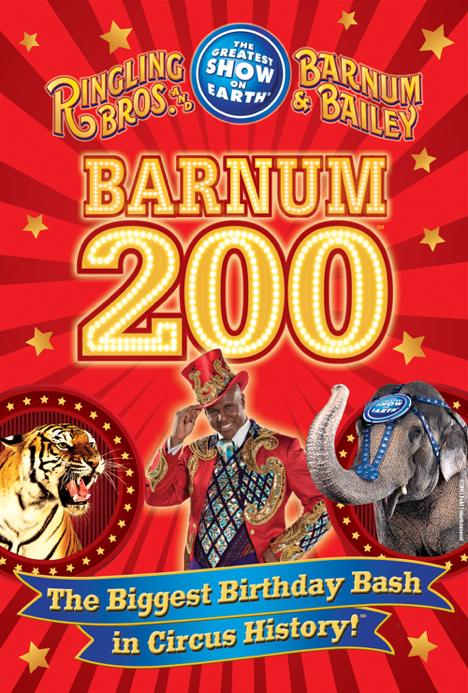 I absolutely love the circus and have looked forward to Ringling Bros. and Barnum & Bailey returning to Grand Rapids every fall.  This year I am even more excited because my girls are SUPER excited. They sit in awe every time we see the advertisement on tv! I cannot wait to see the sheer amazement don their faces as they watch the circus in person on Thursday!
Ringling Bros. and Barnum & Bailey BARNUM 200 will be performing at VanAndel Arena this weekend:
Thursday, September 15 at 7pm (OPENING NIGHT)
Friday, September 16 at 7pm
Saturday, September 17 at 11am
Saturday, September 17 at 3pm
Saturday, September 17 at 7pm
Sunday, September 18 at 2pm
Doors open 1 hour prior to the show (let's face it, you'll want to be there early to catch every single minute!) and tickets can be purchased at www.ticketmaster.com.
the giveaway…
But really, what would a birthday be without some presents? In honor of Ringling Bros. and Barnun & Baily's birthday celebration, I'm giving away THREE family 4-packs of tickets to the Opening Night performance (Thursday, Sept 15 at 7pm)!
to enter…
To enter, simply tell me what part of the circus is your favorite? Do you have a favorite act? Animal? Food?
You can earn one extra entry by doing any or all of the following:
Subscribe to Stacey says… or "join this site" with Google Friend Connect (on the sidebar)
Follow @Stacey_Says on Twitter
"Like" StaceySays.com on Facebook
Tweet and/or Post on Facebook about this contest.  Be sure to leave me a link to your updates or tweets in a comment below.  (You can do this once daily, each)
"I want to win a family 4-pack of tickets to Ringling Bros and Barnum & Bailey BARNUM 200 from @Stacey_Says: http://bit.ly/Barnum200"
Leave me a new comment each time you do one of the "extra entries"!
giveaway details…
The winners will be randomly selected from the comments posted by Wednesday, September 14 at 8am EST. All entries will be verified and must include an email address where I can contact you if you should win. This giveaway is open to US shipping addresses. The giveaway tickets are only good for the September 15 7pm show at VanAndel Arena in Grand Rapids, MI. The tickets cannot be transferred to another location or show time. Giveaway includes only your show tickets. You can read more about Giveaway Policies here.
*You should know…I did receive complimentary tickets for my family to attend the opening night performance from Feld Entertainment as a part of this campaign. Feld Entertainment is also providing the winners' tickets.