I grew up in small town Northern Michigan. A cozy little town with absolutely nothing to do. I remember the first time I came to Grand Rapids. It was my senior year of high school and I was coming down to do a college visit.
I remember being in awe of it's beauty and intimidated at it's size (remember, small town girl). It wasn't until I actually started college that I began to appreciate all that Grand Rapids had to offer and that appreciation continued to grow as I explored the city as a single woman and then with my husband. Now that appreciation only continues as we explore Grand Rapids as a family!
I could go on and on about all the fabulousness that Grand Rapids has to offer but I think that fabulousness can be summed up in 6 words. And by more than 5000 people.
MyGR6 is this amazing campaign introduced at the Fourth of July Fireworks by Mayor George Heartwell. The campaign, sponsored by Amway and Grand Rapids Press, was designed to inspire people to show their pride for Grand Rapids. In six words.
Now, I typically do not have a hard time with words. But this? Six words? How is one to limit themselves to just six words? This proved to be a bit of a struggle for me as I was crafting my own 'six'.
After weeks of thinking, milling, writing, erasing, writing, erasing, writing, I finally came up with it:
Explore. Discover. Live. Dream. Grand Rapids.
That's how I see Grand Rapids. How do you see GR? What is your 'six'? Whether you currently live in Grand Rapids, used to live here, live outside GR and visit often, or only visit occasionally, I'd love to know how you'd sum up your feelings in six words.
More importantly, MyGR6.com wants to hear your 'six'. And, by submitting your 'six', you are entered to win an amazing prize package! Entering is so simple but you only have until October 4 to enter and possibly be one of the 6 winners. Did I mention that the prize package is valued at over $10,000? Yeah. I know!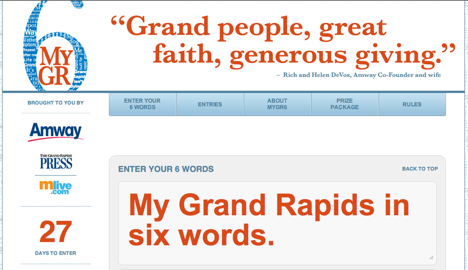 In addition to this fabulous contest, MyGR6 will be featured in an interactive exhibit at the Grand Rapids Public Museum opening this weekend! See the exhibit for free on September 10 and free again during Art Prize!
I am also super excited to be joining @BigBinderBlog on September 20 as she hosts the MyGR6 Twitter Party at 8pm. You can RSVP for the party and participate using the hashtag #MyGR6 for a chance win some fun prizes!
Ok, now head over to MyGR6.com and submit your six word Grand Rapids memoir!
You should know…I am writing this post as a sponsored campaign. I am proud to have been chosen as one of the bloggers to write a sponsored post about MyGR6. All opinions stated here are my own.