I feel very lucky that, through all three kids, we never had a problem with Tummy Time. All three of my kids actually liked Tummy Time. But I realize this is not always the case! I've heard the horror stories.
It then becomes a catch-22. Baby hates it and cries the whole time but you have to do it because you know how important it is for their development. Still sucks, nonetheless.  So, we as parents, grasping at straws to make the time just a little more bearable for everyone involved, will try every trick in the book. And then some.
One of the tricks I used during tummy time was to use the Boppy Pillow! Ah, that all-purpose little pillow! I would set it on the floor and then place baby on his/her belly in the open part of the pillow, propping him/her up a little. Yay! Baby can actually see things around him! Happy Baby! (*Note: I'm pretty sure this is one of those "not intended for this use" moments. So, maybe not a good idea.)
Well now parents don't need to worry about breaking those Boppy Pillow rules. They can use the Infantino Right Angle™ Tummy Triangle!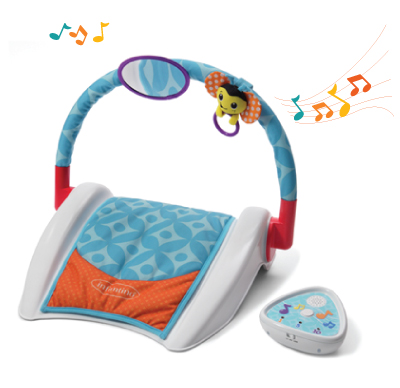 The unique angle of the Right Angle™ Tummy Triangle does what the Boppy Pillow was doing before. It uses the incline to allow baby to comfortably lay on his/her belly while developing upper body strength and sense of balance.  And, the attached mirror and adorable little bee encourages your little one to reach, grab, and, well, just keeps them from getting bored at looking at the floor in front of them.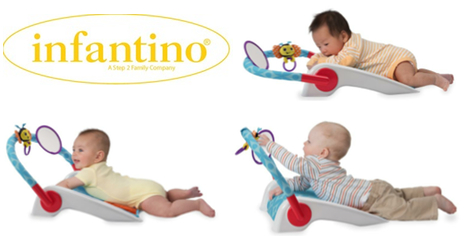 The Right Angle™ Tummy Triangle grows with baby from birth to about age 5 months.  Talon, almost 7 months is really too old (that is so weird to say) for this toy but he still thought it was pretty entertaining.
I would have definitely used it when my baby was doing his time on his belly. The only thing I would advise parents on is to be careful once your little one starts consistently rolling over or is able to roll over as they wish. If baby rolls off of the Right Angle™ Tummy Triangle, he could bump his head.
Since Talon is just past the age where the Infantino Right Angle™ Tummy Triangle would be a good fit for him, I'm looking forward to passing it along to one of my many friends who happen to be pregnant right about now!
Oh, the Right Angle™ Tummy Triangle also comes with a little musical timer that helps parents keep track of the length of time baby is on his tummy, allowing you to use the 1, 5, or 10 minute option. Unfortunately I couldn't get mine to work and need to get a replacement.
So, if you're preggers or have a friend who is, check out the Right Angle™ Tummy Triangle! You can see it action in this little video and can purchase it at your local Babies R Us ($39.99)
You should know…I am a participant in a Mom Central Consulting campaign for Infantino and have received various Infantino products as part of my participation. All opinions stated here are my own (and Talon's). And I do not endorse using the Boppy Pillow for any purposes other than it was designed. Yup, that's me saving my butt!