This morning I was scanning through Facebook and I came across a post from Good Morning America.

My first thought, Don't click on it, Stacey! Leave the page. You're only going to get irritated by the comments. Don't. Do. It!
But did I listen? Nope. I clicked. I read through numerous comments. And I got irritated. No surprise.
Really? Are people really that upset over this?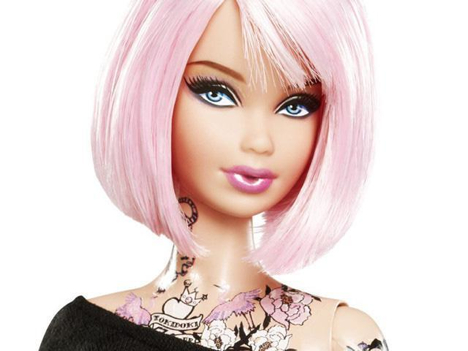 In all fairness, there were quite a few people who could care less if Barbie was tattooed. Many of them fell under the camp of "If you don't like a tattooed Barbie, then don't buy it for your kid!" But let's talk about the comments against inked up Barbie.
Some of those comments included thoughts that this Barbie was "white trash" or tattoos are "tramp stamps" — Tattoos make you "white trash"? Apparently Thomas Edison, Andrew Jackson, Teddy Roosevelt, and George W. Bush were trampy white trash. Yes, they all had/have tattoos.
"Kids shouldn't be encouraged to get tattoos until they are fully mature and able to really understand the implications of a permanent decision." — You're right, I'm pretty sure that my 5 year old is going to run off and get a tattoo the first chance she gets thanks to Barbie. Really? Do you REALLY believe that? If that's the case then I should also be concerned about my daughters wanting to run around in high heels, in dresses that show your 'goods' when you bend over, in lacy undies, and makeup. I believe there are more Barbies out there that fit that bill than tattooed Barbies.
"Tattoos on Barbie? Well she already has the body of a stripper, and the makeup and clothes to go with it. Give her a crack pipe and the package is complete. Oh…then we need rehab Barbie…can't get a job Barbie…great marketing right?" — Awesome! Tattoos lead to smoking crack! Kids, Go grab mommy that crack pipe! No, you can't play with that Barbie, you need to get a job because apparently your tattooed parents are going to be out of work soon! Pretty ridiculous! Almost as ridiculous as thinking the majority of strippers have a body like Barbie!
Seriously people! Why are you so worried about a doll sending the wrong message to your kid? A doll that you don't have to buy! It's a lot like blaming McDonalds for your kids being fat or TV for your kids being lazy. It's called parenting. If you don't want your kids to eat McDonalds then don't buy it. If you don't want your kids to play with a tattooed doll, then don't buy it.  But let's not be ignorant.
Phew. Now that I have that off my chest, it's time to explain to my little girls how "go old, teen fashion model" Barbie got knocked up! I bet pregnant Barbie has one of those evil little tramp stamps too! Probably "KEN" tattooed on her ass!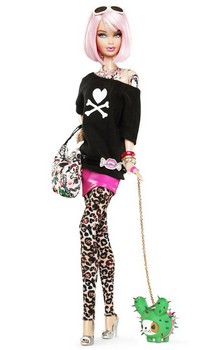 What do you think? Obviously you know how I feel about Barbie sporting some tattoos, but I want to know…Are you totally opposed to Barbie having tattoos?