I was really bummed when I realized that there were really no Halloween cartoons on tv for the kids this year. Somehow we missed It's the Great Pumpkin, Charlie Brown! and our only other option in some Shrek show. Sad. I remember there being a lot more shows on tv Halloween weekend/night when I was a kid.
Thankfully we had Biscuit to get us in the Halloween spirit!
Biscuit Visits the Pumpkin Patch, the classic series, is now in ebook form, perfect for your iPad and your little one on this Halloween!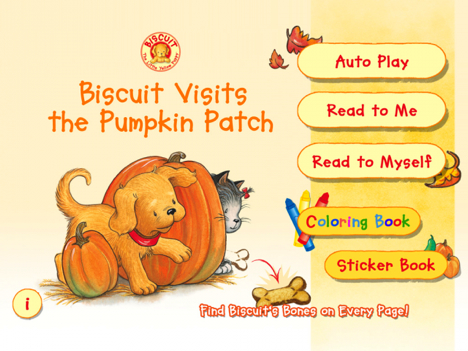 Follow Biscuit as he visits the pumpkin patch and searches for that perfect pumpkin! If your little one is ready to read, they can choose to read the story on their own or with assistance from the reader. If he's not quite reading yet, you can select to have the story read right to him!
Zoe's favorite part, though, is the coloring book and sticker album options! Of course both girls love seeing who can find the hidden bone on each page as they "read" the book together!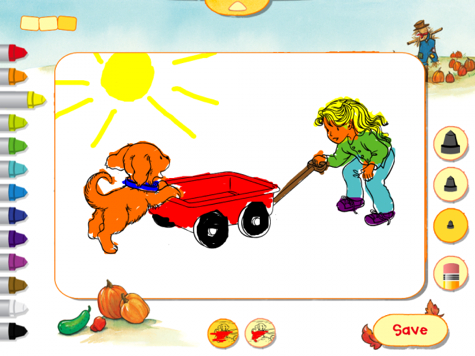 If you're looking for a fun little story for this Halloween, check out Biscuit Visits the Pumpkin Patch in the app store today! You can also check out other great ebooks for your kids at iStoryTime.com.
I received a free download of this book from iStoryTime to help me facilitate this post. Any compensation/product received has no affect on my opinions stated here.  All opinions are my own.