Last year it was all about the Zhu-Zhu Pets. But, to be honest, I just wasn't feeling it. It was not a toy that jumped on to my kids' radar and I was ok with it. But this year, I feel Cepia LLC. might have hit the mark — well, at least they hit my kids' radar — with the Xia-Xia Pets!
Today the girls and I decided to invite some friends over to check these Xia-Xia Pets out for ourselves.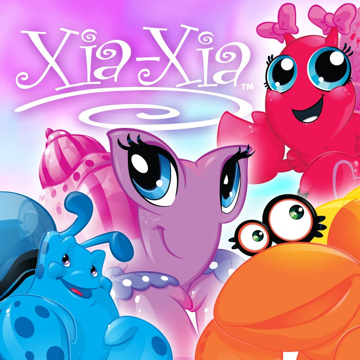 First impression…these little crabs are stinkin' cute!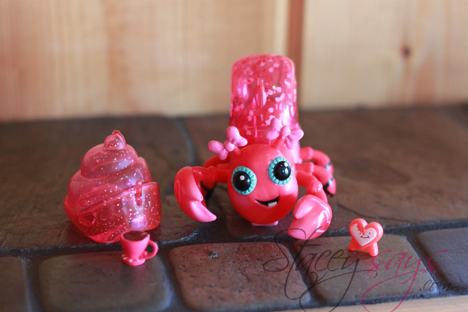 The little hermit crabs, with a little touch of their claw, go scattering across the floor. And, from that moment, the kids thought they were hilarious! Their giggles were definitely a testament to that!!! That, coupled with their fun colors and silly faces, fully embody the fun of Carnivale. After all, their name Xia-Xia (pronounced Shah-Shah), is based on a Carnivale theme!
Each of the four Xia-Xia Pets comes with a removable collectible shell that hold a little surprise! The removable shells make for even more fun as you can swap shells between the different crabs or from the additional 12 collectible shells! Of course my girls love that feature because they get to accessorize their little hermit crab. And they love being able to take their little friends for a ride!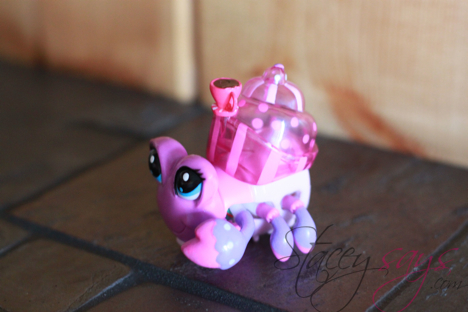 You can let your Xia-Xia Pet loose on a solid surface floor or one of the three habitat playsets in the Xia-Xia line.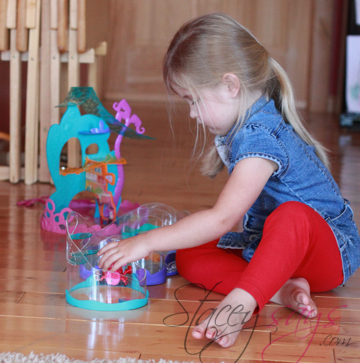 Now, while the kids did enjoy playing with the Xia-Xia pets, here is my caution. The Xia-Xia Pets are recommended for ages 4 and up. I would highly suggest you adhere to that recommendation. First, the little friends found inside the removable shells are pretty small.  Definitely a choking hazard for really little ones and a "MOM! Zoe has something stuck in her nose!" issue for those toddler/early preschool kids.
Also, the legs, claws (Jakob made sure to remind us that they were claws, not legs), and heads are removable. This posted to be a slight problem for the kids. We found that we were loosing claws quite often and the kids needed help getting those back on.
Lastly, read the instructions! The kids were so excited to get their Xia-Xia Pets opened and on the floor that we didn't take time to read the instructions (or eat lunch first). It took us a bit to figure out that the whole shell needs to come off to swap it out with another. I kept trying to put the different shells on the wrong bases because I didn't realize those needed to come off. That one was totally my FAIL.
Overall, I would say that kids 6+ would really enjoy the Xia-Xia Pets. But you know your kids best. My 5 year old was getting pretty frustrated with the claw that kept falling off of her crab. I think, now that we know that we need to be a little more gentle with the Xia-Xia Pets, the girls will enjoy them even more.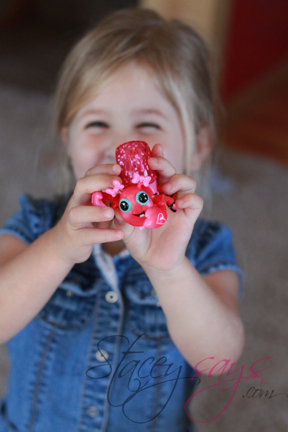 I can definitely see how these will be a hot item this holiday season! You can check the  Xia-Xia Pets out online or at Toys R Us and Walmart. (FYI – According to the Xia-Xia Facebook page, it sounds like stores are already selling out of these little crabs!) Cost? I know Toys R Us has the Xia-Xia Pets listed at $12.99, collectible shells at $5.99 and the playsets ranging from $14.99 – $21.99.
What do you think? Will the Xia-Xia Pets be on your kids' wish list this Christmas?
This post is part of a campaign with Xia-Xia Pets and BSM Media. I received complimentary product for my daughters and their guests to enjoy and take home at their playdate. All opinions are my own and the kids' who spent all afternoon playing with their new pets and not eating their lunch.