Having two girls in the house, fashion seems to be a way of life. We range from wanting to wear the most pouffy and frilliest of dresses to pairing the most unlikely of pieces. It is always a gamble when I ask the girls to go to their room and get dressed by themselves. Sometimes they can be very creative with their ensembles!
And shopping for these girls is so unbelievably easy! Have you ever tried shopping for kids? It is amazing the expansive selection you can find for a little or baby girl. So much more than the boys' section! I never really thought about this until having a little boy myself and trying to find clothes for him!
The other day I stopped at two of my frequent "clothes shopping stores" and was astounded at how small the boys' sections were! In one store, I counted five racks of boy clothes vs. 20+ of girls clothes! Obviously keeping the little man in some fashionable clothes (something other than teddy bears and trucks) and within a decent budget is going to prove to be a challenge.
A few weeks ago I had heard about Cookie's Kids, an online shop for kids and baby clothes. Honestly, I'm pretty hesitant when it comes to shopping online for the kids' clothes because sizes vary so much, but I was willing to give it a shot.
Cookie's Kids offers baby and kids clothes from a ton of name brands but at a discount price. Apparently you'll find brands like Adidas, Disney, The North Face, Hello Kitty, Paul Frank, and more! Ok, worth a shot…
So, I went to CookiesKids.com, selected the Infant selection under Boys Dept. And oh my! Hello cuteness!!!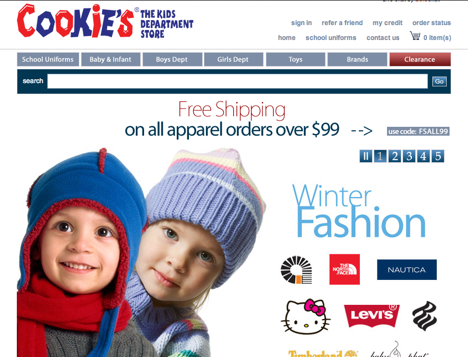 Specifically, I was looking for a cute outfit for Talon to wear to our different Christmas-y events so I checked in the "Dress Wear" section. STOP IT! Little man in a suit? AHHH!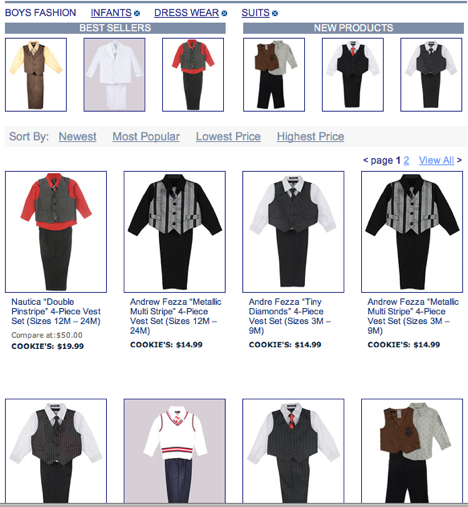 Ok, maybe we're not quite ready for a suit but I loved the little dress shirt, sweater, and pants combos! And the prices for  a three-piece set had me completely sold. This one was the clear winner…I loved the red for Christmas but it would be something he could wear throughout the winter months for church or any other special occasion.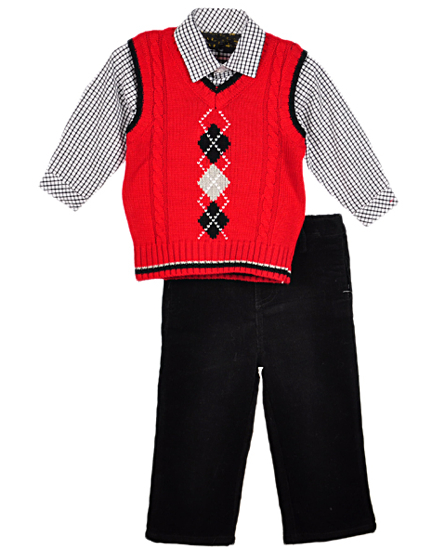 Now that I had that task taken care of, I figured it wouldn't hurt to browse the other selections for the little boys. I was wrong! All of that cuteness complete sucked me in and I found myself wanting to buy more. As the little man outgrows his clothes, I can definitely see coming back to Cookies Kids to do more shopping! You can see more of my shopping time, including shopping for the girls, over on Google+. And you can do your own shopping by visiting CookiesKids.com.
Oh, and if you're on Facebook, check out CookiesKids because they are often post sales & deals. I got sucked in to doing this little scavenger hunt the other day…it was actually really fun (love the "hunt" for a deal) and I got 20% off my order! Cookies' Kids also has a fun Refer a Friend program where you can earn money back!
Now, prepare yourself for total heart-melting cuteness because I'm going to give you a little glimpse into Talon in his new outfit. You'll have to wait until later in the week to see the complete out fit when I show you the kids with Santa!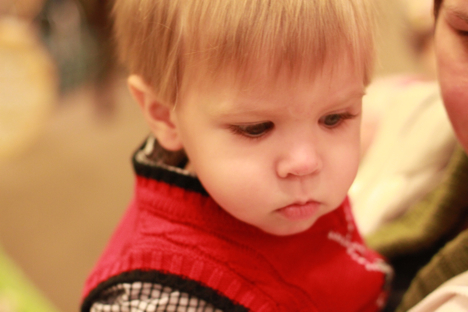 Do you have a little boy? Did you have a hard time finding clothes for him? Have you ever shopped at Cookie's Kids?
This shop has been compensated as part of a social shopper insights study for Collective Bias. This post does contain affiliate links. All opinions about "cuteness" and over-use of exclamation points is all my own

#CBias #LuvCookies