Last year Abbi and I made this little Nativity scene.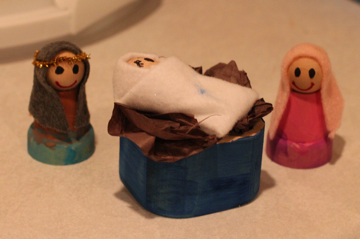 This year, we are adding to our Nativity by creating some shepherds and sheep. Specifically we are creating 2 of each because Zoe is old enough to participate. Let's get started!
Here is what you'll need: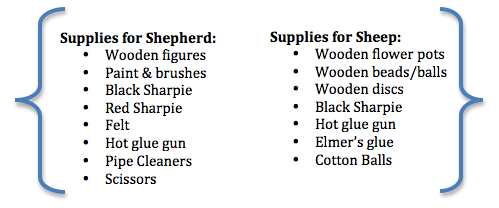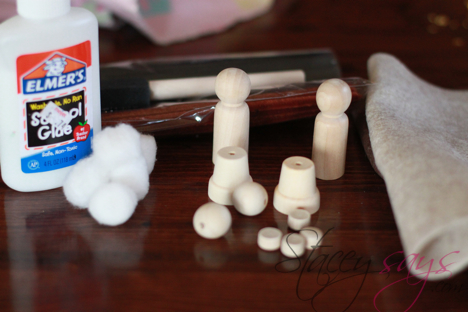 Making the Shepherds:
Step 1: Paint the wooden figures
We used preformed figures this time but you can always use the wooden flower pots & beads like we did with Mary & Joseph. Just follow those directions. Either way, use whatever color paint you like and color the bodies of your shepherds. This helps give them a little personal touch from the kids.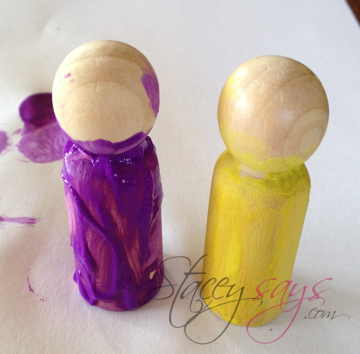 Step 2: Add a face
After your figures have dried, use a black Sharpie to add eyes and a red Sharpie to add a mouth. Zoe got a little paint on the head of her figure, so we just embraced that and her Shepherd now has a beard!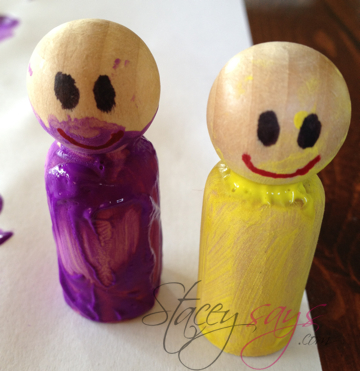 Step 3: Dress them
We used felt to create a head scarf for our shepherds, but any scrap of cloth would do. Simply cut the felt/cloth into a small square, add a bead of hot glue to the top of the shepherd's head (like a headband), and drape the cut felt over the top of the shepherd's head so it adheres with the hot glue. Gather the felt behind the shepherd's body and use the hot glue to glue it down. Hint: I folded mine kind of like you're folding the ends of wrapping a present. Trim away any excess fabric. Use a pipe cleaner to make the little headband portion of the head scarf (we attached ours with hot glue).
Step 4: Create a staff
Using pipe cleaner, simply bend the end over to resemble a shepherd's staff and cut to the appropriate length. I hot glued our staffs to the shepherds' bodies.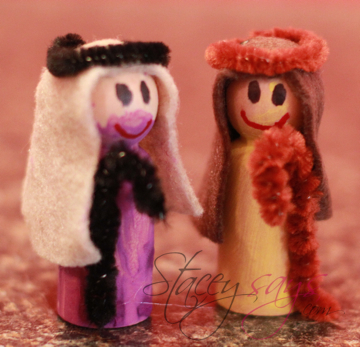 Making the Sheep:
Step 1: Assemble the sheep
Hot glue the wooden bead/ball to what would normally be the bottom of the small wooden pot. Our beads had holes in them so we attached the bead so one of the holes would be pointing away from the pot (to be used as the mouth). Turn the pot onto it's side and attach the small wooden discs to the (now) bottom of the pot with hot glue. These will serve as feet so your sheep doesn't go rolling around. We used 2 discs on each sheep (one front and one back) but yours will depend on how big your pot is and how big your discs are. You won't really see these after we're done, they are just for stabilizing it as it sits on the shelf.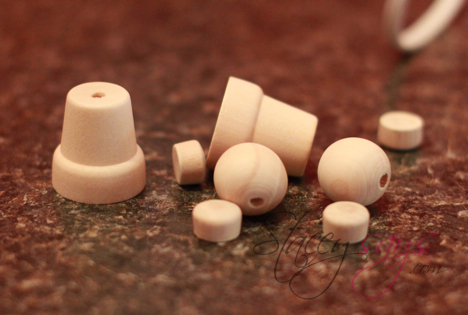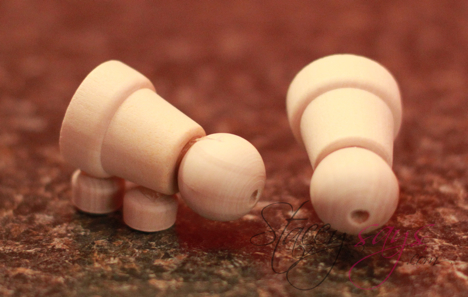 Step 2: Add wool
Using a sponge or paint brush, cover the body of your sheep with Elmer's glue. Then use slightly stretched out cotton balls and cover your sheep's body.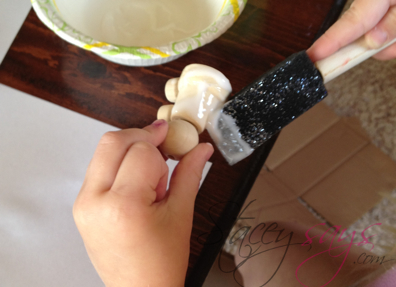 Step 3: Add a face
Create some eyes and ears on your sheep using a black Sharpie. You can get even more creative and use some other material to make ears but we were good with drawing ours on.
That's it! Now you have  a Shepherd and sheep to go along with your Nativity scene!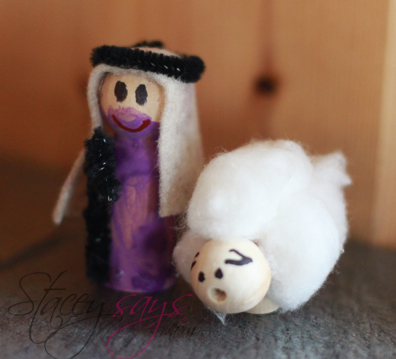 I'm glad we did something a little different this time. I like the idea of making them a little different than our Mary & Joseph.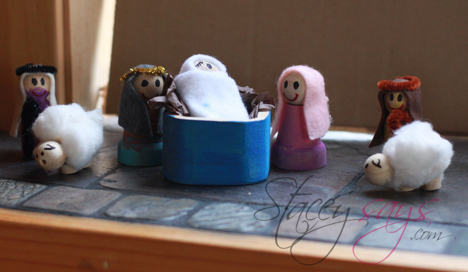 Next year we will be adding our Wise Men and then, if I can convince my kids that crafting with mom is still fun, we'll create a little crèche similar to this and an angel the following year.