If you have ever seen a cooking episode or segment with Paula Deen, then you probably weren't all that surprised to hear that the Queen of Butter had been diagnosed with Type 2 Diabetes. But what you might have been surprised at was that this diagnosis was 3 years old!
While I am a complete proponent of letting celebrities keep their personal lives personal, there seems to be a bit of a disconnect here because of the style of cooking (and eating) she promotes. It's like a vegan telling me how delicious this rack of lamb is. And Paula's lack of announcing her diabetes diagnosis three years ago has a lot of fans, health professionals, diabetics and pretty much everyone else up in arms. 
I guess I don't really care that Paula Deen was still singing the praises of butter and bacon even after her diabetes diagnosis. I guess it's because I understand that eating that stuff all the time can cause things like diabetes or my clothes mysteriously shrinking. I'm not depending on Paula Deen to tell me what is healthy and what is not.
What I am frustrated about is the aftermath. The way it's all playing out.
Now, I'm not naive enough to believe that this would make Paula Deen do a 180, abandon the butter and give us a killer recipe for rice cakes. The butter, the bacon, the mouth-watering goes straight to your hips recipes are what she's known for. It's why people turn in to her show. Yes, she could  have been using her fame and the power of her empire to bring light to diabetes for the past 3 years but at least she's trying to do that now. I can't condemn her for not doing that these past 3 years.
No, what I'm frustrated about is how she has now become the Face of the American Way.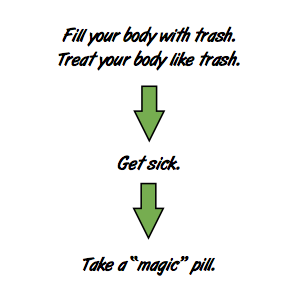 Think about it. We eat horrible food (processed foods, fast-food, food with ingredients that we can't even pronounce). Then we get sick (colds, obesity, diabetes, cancer, etc.). Thankfully, these lovely little pharmaceutical companies and doctors offer us a solution to our ailment (pills, treatments, surgeries). And we don't even have to change our way of life! These solutions from the companies and docs will return us to our sub-par way of living life just long enough to make us forget why we weren't feeling well and just in time to get sick, again. And the cycle continues.
This is what has happened with Paula Deen. I'm speculating here but I would guess she might have sampled many of the dishes she prepared for her show or otherwise. And it's no secret that eating high fat/high carb dishes on a regular basis isn't the best idea. Then she developed Type 2 Diabetes. Now she is working with a pharmaceutical company as the spokesperson or face or whatever for a drug that supposedly provides relieve for diabetics.
And to do what? To continue on eating the same foods?
It's the American Way. We don't want true solutions. We want band-aid fixes. True solutions might require us to actually change something about our behavior. Change what it is that is actually causing the problem we are trying to fix. And we don't like change.
I'm sad that Paula Deen is turning toward this new drug. Not when she could be an advocate for controlling your diabetes with diet and exercise. Yes, she could continue to show us those sinfully delicious recipes with all that butter and bacon but then also offer alternatives to the recipes. A low-cal twist on some of her famous dishes. Or be a spokesperson for moderation. I really believe that with a kick-ass team of doctors, dietitians, and marketing gurus, should could have turned this Diabetes diagnosis around to be something awesome.
I hope she can do some of that with her new site. But I really, really wish she would have kept her integrity out of the pharmaceutical-company-clutches.
What do you think? How do you feel about Paula Deen hiding her diabetes and endorsing this Diabetes relief drug?